This industrial style Honda Custom CB900 is the latest creation of French motorcycle fabricators Sebastian Guillemot and Matthew Menard of FCR.
For this build a customer rocked up at FCR with his recently purchased Honda CB900 bol d'or, his brief to FCR was to build an old school racer. I have always admired the bravery and the desire of the customer; to taste the custom flavor they will go to any length or will take any risk. Custom builders, their customers and our readers are the fuel for Moto Rivista.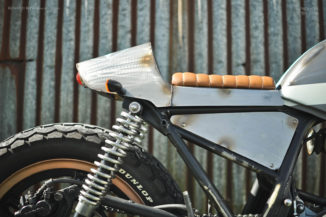 To begin with the build the stock Honda CB900 was disassembled. The frame was modified at the rear and was painted in a worn out style. The wheels were repainted and fitted with Dunlop K81 tyres. While the motor and its cover were painted in black textured paint.
The bike already had a Martin swingarm, which was adjusted to get inline with the Hagon rear shock. At the front this Honda Custom CB900 features a small custom headlight, Tommaselli handlebar and a custom speedometer.
The stainless steel tail section and the sidepieces were hand fabricated by FCR; the tail section of this Honda Custom CB900 houses a taillight. The fuel tank was marinated to get a rough aspect. The finishing touches on this Honda Custom CB900 includes an adapted intake cornet and a custom exhaust which integrates a custom DBkiller.
Envisaging and witnessing the transformation from stock to this Honda Custom CB900 is the biggest reward for the builder and owner. A great demonstration of fabrication and customization by FCR, this build highlights the potential of Honda CB900 bol d'or.