The 2013 Motor Bike Expo in Verona, Italy has just wrapped up, unveiling a plethora of custom motorcycles from around the world. One of them is this Triumph Legend TT, Cafe Racer named Jerolamo.
This custom Triumph Legend TT, Cafe Racer was one of several new special bikes presented by Mr Martini in Verona and it was awarded with first place in the Café Racer category.
In the entire life and career of an artist it is possible to create something that contains the whole experience, hard work, effort, joy and even errors. The result is an evolution, wealth of knowledge and experiences that led the artist to that point of life that is not static but is constantly evolving.
This is what the Triumph Legend TT, Jerolamo symbolizes for Mr. Martini. Nicola took a Thunderbird engine and Triumph Legend TT carburetor and built it in a more aggressive style, an old classic bike with a more powerful engine.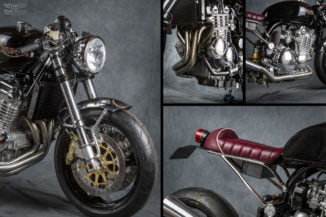 The front axle is completely changed and replaced with a Ducati one, upside down Showa front forks, Brembo front wheel disc, half handlebars and alloy rims. The rear had to be designed again to raise the driving position. At first the electric set was under the saddle but later it was relocated to under the raised tank. The handmade saddle painted in bordeaux with a cream color piping is supported by a chrome frame that provides lightness and shortens the structure like another Mr Martini creation: the XMR.
Jerolamo looks naked, exudes strength and aggression with an elegant spirit given by the glossy black that contrasts with the chrome exhaust, a three in one by Zard, inspired by the Norton Max conical exhaust.
This bike was first designed with a classic endurance style windscreen, but because the Jerolamo it's like a thought evolution and was finished without. It's difficult to mix strength and elegance but in this creature it happens. It hits the mark, constantly changing is what  Mr Martini has been and will be in the future.
The words might not be enough to describe the intricacy of the craftsmanship of Nicola Martini, but the images definitely paint the rest of the picture. This custom Triumph Legend TT Jerolamo is like a bull ready to rip through the streets of Italy!