The 2013 Motor Bike Expo in Verona, Italy is guaranteed to bring out the big guns. One particular stand by Mr Martini had five blazing special custom guns, grabbing the attention from every corner of the expo. This custom BMW R65 Retro Motard named KBM was one of those five special bikes Mr Martini presented at this years expo.
The story of this custom BMW R65 Retro Motard goes something like this; Luca a friend of Nicola's and owner of a Mr Martini Scrambler found an old and battered BMW bike. He took the bike to Mr Martini and basically said 'It's in your hands' (are there any better words for a customizer?).
So Nicola got busy thinking and planning, what were the possibilities with this boxer engine and that structure?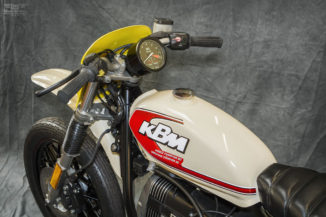 He imagined how the Motard bikes would have been designed in the 70's even though they didn't exist then. Instinctively he lays an old KTM 125 tank and in his mind theres a small spark. So was born a "Little Retro Motard " which takes the BMW R 65 r appearance around the small tank, simple and ingenious intuition. And then came the name: KBM, the combination between two historical brands away from each other but for this reason so interesting.
An important change of this custom BMW R65 Retro Motard is the rear frame, which has been rebuilt to give a lightness effect. The carbon fenders were mounted high and the inclination of the new rear Öhlins suspension was revised. The KTM 125 tank has been colored, as well as the fenders, in a delicate light brown that integrates perfectly with the glossy black original rims. The handmade saddle that follows the Mr Martini style, is made of soft black leather. The Cev headlight with yellow number plate comes from the 70's and creates a bright spot.
The work was almost completed and then one day Walter, the owner of Zard was visiting Nicola for other reasons. He saw this custom BMW R65 Retro Motard special in the workshop and realized it required a 2 into 1 exhaust, just what Nicola had in his mind too!
As you can imagine Luca didn't believe his eyes when he first saw the transformation, from an old lady to a vintage Motard bike!