The custom scene in Europe just keeps getting better and better with new custom workshops popping up all the time. We spotted this beauty a custom BMW R100 / 7, Oak over at our new friends 8negro.
The bike is built by another Spanish custom shop La Raiz Motorcycles. According to La Raiz "The garage where we are working was my father's, he was a racing driver, car repairer and car restorer during his whole life. I have been interested in motorbikes for years, especially in classic motorbikes. I take after my father in that I like to do things right.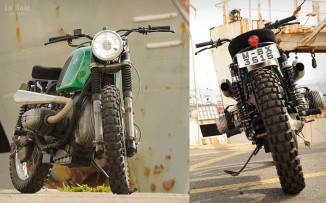 The idea for the name of the workshop was to have true essence and that one name could retain most of the meanings. We wanted to express our history and legacy in one word and that was La Raiz (The root). At our workshop we have more than 15 motorbikes from the 30´s to the 70´s Harley, Norton, BSA, Triumph, Guzzi, Yamaha waiting to be customized and restored."
The first bike to roll out of La Raiz Motorcycles workshop is a custom 1977 BMW R100 / 7, Oak. To give you a bit of background about the bike it is a very common model on Spanish roads, known for their reliability and the robustness of its eternal engine resembling the most famous feature of an oak.
The build of BMW R100 / 7, Oak started when La Raiz found an original gas tank in Germany, which was in very good condition with its original paint and no rust. From this point they knew exactly what style of motorcycle they were going to build.
The stock bike was stripped off, all the hefty bits were grinded off cleaning up the look of the bike. The stock handlebar was replaced and a new head light was fitted. The exhaust pipe and the subframe were hand fabricated by La Raiz Motorcycles.
The suspension and the brakes were also improved to get the most out of this beauty. Finally, details like hidden wiring, high-coils, pipes, etc are characteristic of the bike.
Please launch the image gallery to appreciate the details of this build.