I always wondered if motorcycle manufacturers had to pick a bespoke motorcycle builder, where would they go and who would they pick. In Harley Davidson's case, the place might be Italy and the bespoke fabricator could be Roberto Rossi.
A couple of days ago I received this bespoke Softail Blackline named Severa from our Italian friend Roberto Rossi. I was not the only person who was excited to see what Rossi had put together. In fact, in October 2011 the H-D CEO, along with the H-D vice president and two engineers visited Rossi to see Severa and evaluate if it was possible to start a large-scale production of the bike.
According to Rossi "The name Severa is the Italian word for severe, austere strict, uncompromising. This name transmits some of the peculiarity of the bike: sharp lines give the idea of a stubborn, strong, but at the same elegant bike. There is a second meaning in the name Severa. In Italian Severa could be mangled in "Se verrà", which literally means: "If it will come". This second name is more about the commercial/industrial future of the bike. For this reason "If it will be" or "Se verrà".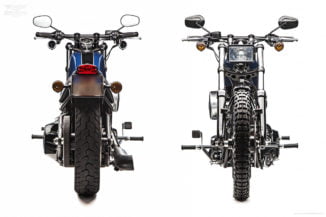 Recently we have noticed lots of motorcycle manufacturers are approaching bespoke motorcycle builders to bring the custom taste to their production line. Since there is not really much which can be done with expensive stock bikes, other than catalog transformations. Our ultimate desire to have or do more has created the vast world of custom motorcycles. It's growing and evolving every day and no one is left UN-captivated by the charms of bespoke motorcycles and the possibilities this presents.
Rossi's Softail Blackline Severa is the result of incessant research, readings of rare books, travels to art museums, but especially of Rossi's incomparable stylistic insight, which is not quantifiable in simple terms. Severa derives from a less known and a bit plump model: Rossi made it thin, redesigned and made it very, very bourgeois. A sort of Harley-Prada, beautiful, minimal and stylish to the highest degrees.
The fuel tank initially belonged to a 1977 XLCR model. It has been adapted to be longer and lowered. The fuel tank cap and the tunnels have been handcrafted by the local tinplate beater. Just the tank manufacturing on this Softail Blackline Severa took more than 400 hours.
At the front Severa features a drag style handlebar mounted with 6-inch raiser. The grips are "H-D Get A Grip"; I really dig that front headlight, it looks wicked! Also check out those blinkers they are covered with a custom welded steel mesh. At the rear this bespoke Softail Blackline Severa features a rear light, which was taken from a car. The stock seat was modified to be a single seater. The stock engine is fitted with a Screaming Eagle air filter with H-D Evolution cover and a 2 in 1 muffler with turnout.
About the color of this Softail Blackline, initially it was a Ducati red, then it became a Land Rover blue with a black stripe crossing the whole bike (the reason for this is a reminder of the Blackline original title), bordered with a typical '70s golden braid.
The finished bike was beautifully captured by Toni Torhimbert and it was featured in Riders magazine, an important and well known Italian magazine with cool bikes and other cool stuff.
This bike is available in limited production, available only by reservation. I hope the important bosses from Milwaukee could see the great potential of this bike and the mastery of our friend Roberto Rossi!