Meet the Sensei (Master) of old school Japanese superbikes, AC Sanctuary is a four cylinder retro Japanese superbike transformer. Their custom creation a Honda CB1100R is a classic transformation with modern day performance.
AC Sanctuary is an idol place for retro Japanese bikes to get a modern day customization without losing their classic lines. The guys at AC Sanctuary do not build bike to your conditions, here they build bikes to be what it should be "A Real bike". You will get to pick certain parts but that would be it, leave it to them and they will give you something special like this custom Honda CB1100R aka RCM-156.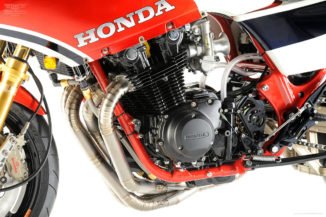 There is no compromise when it comes to performance, with every single custom motorcycle rolling out of AC Sanctuary featuring hi-performance parts. AC Sanctuary also contributes in Suzuka 8 hour's races.
A bit of history; "The Honda CB1100R was an striking craft from Honda, it was produced in limited numbers between 1981 to 1983. The Honda CB1100R was a full fairing sports motorcycle and it was based on the Honda CB900F".
Back to AC Sanctuary's custom Honda CB1100R, based on the stock CB1100R this bike has been altered beyond our comprehension. The frame was heavily reinforced strengthening the foundation of the bike. The stock inline-four cylinder engine has been thoroughly modified and features four Cosworth pistons, revised stronger cylinder heads and crankshaft. The original carburetor was replaced by a TMR38 Mikuni flatslide. Resulting in the power output from 100 to 140 HP, which is pretty impressive for a 30-year old engine. Other performance modification includes a Nitro Racing titanium V3 exhaust system.
To tame this beast AC Sanctuary has added a mix of Brembo, Nissin and Sunstar components with Ohlins front and rear suspension. This custom Honda CB1100R rolls on 17-inch OZ wheels wrapped in Pirelli Diablo tires.
If there was a limit to reach on modifications of a Honda CB1100R, AC Sanctuary's custom Honda CB1100R aka RCM-156 would be it….I guess for now!