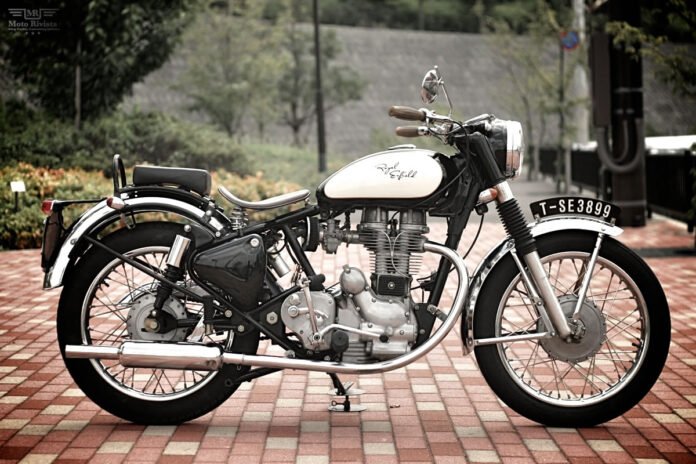 Throughout the course of history many motorcycle models have evolved or changed due to the nature of survival. But the Royal Enfield Bullet 350 is the only model that had survived without any major changes until 2011.
Rising from Japan is the feature of the day, a classic Royal Enfield Bullet 350 resurrected by our friends at Motor Garage Goods. When I looked at the picture I straight away started having flashbacks. The Royal Royal Enfield Bullet 350 was another one of my dad's favorites and I have spent countless hours riding and working on it with him in the past. These bikes were built like machine guns and they sounded like them too.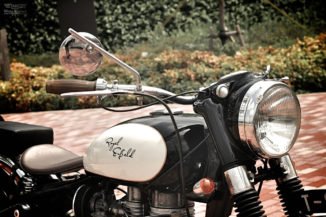 Royal Enfield started out as a company making lawnmowers and is now one of the worlds attractive motorcycle manufacturer. The legacy of weapons manufacture is reflected in the logo comprising the cannon, and the motto "Made like a gun". The brand name Royal Enfield was licensed by Crown in 1890.
The first Royal Enfield Bullet 350 was introduced in 1931 with a four-stroke cylinder. Royal Enfield Bullet 350 differed in a number of ways from its descendants. It featured an inclined engine with exposed valve gear featuring four valves per cylinder with 350cc. The Royal Enfield Bullet 350 also featured a rigid rear-end, necessitating a 'sprung' seat for the rider, an iconic look of the motorcycle that is replicated today.
The Royal Enfield Bullet 350 you see above in the picture was restored by Motor Garage Goods. The bike has been custom painted in cream and black and features a custom seat.
Riding and handling of the Royal Enfield Bullet 350 was absolutely amazing. From my old memories what I recall is the Royal Enfield Bullet 350 steers very well and you can easily squeeze through the traffic! Right now I am missing my dads Royal Enfield-Bullet, I am sure he will regret selling it too. This feature was an absolute joy, special thanks to Hiro from Motor Garage Goods for sharing this beauty with us. If you have ever owned one like this please share your memories and experience with us….
Check out the other featured bikes from Motor Garage Goods.