Our search for a custom Moto Morini motorcycle has stopped at Emporio Elaborazioni Meccaniche, the Italian boys have managed to pull an absolutely classic looking custom Moto Morini 350.
This is only the third Moto Morini motorcycle to be featured on Moto Rivista and we know it will not be the last. This creation a custom 1981 Moto Morini 350 is nicknamed "Treemmezzo" (meaning three and a half in Roman slang).
The guys describe it as an "a la carte" special, which was commissioned by a customer who wanted his Morini to be more aggressive and classic. Emporio Elaborazioni Meccaniche worked their magic and made it with their philosophy.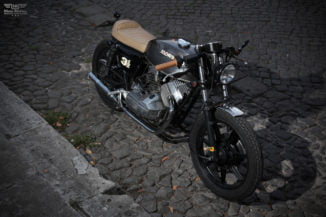 To begin the build the stock Morini 350 frame was shortened at the rear and the electrical wires were simplified to clean up the look. To add comfort on Roman streets the guys heavily modified the rear using valve springs from a Moto Guzzi Imola. The rear fender, plate and seat are one piece giving the bike a solid rear foundation. The bike also features a modified original Moto Morini fuel tank which adds the aggressive and classic look to this beauty.
All the parts at the front of this bike were cleaned up; the front fork platen was flattened to put warning lights (taken from a domestic device). The tachometer was installed with a wrench giving it a unique look. The headlamp was changed with an h4 and Grimeca pump brake was fitted on a Morini Sport version handlebar. The stock Moto Morini 350 engine was fitted with a modified muffler.
The finished Moto Morini aka Treemmezzo features stock wheels wrapped in Heidenau front and rear tires. What Emporio Elaborazioni Meccaniche has put together is truly inspiration and I am sure it will open the gateway for the custom Moto Morini world!
Check out the other featured bikes from Emporio Elaborazioni Meccaniche.