I believe there is a time and place for every thing to happen in our life. Just when I thought I had seen it all, I am gobsmacked again by The GasBox master craftsman Jesse Bassett's creation, a custom 1976 Sportster.
I have never met Jesse in person but what I know is a creation like this doesn't come from an ordinary custom motorbike builder. What makes Jesse's bikes extraordinary is the level of craftsmanship, he clearly has a profound understanding of the art of custom motorcycles. For me today's feature is quite special, this custom 1976 Sportster is every thing I would expect my idol bike to be. When I take a close look at the images I am mesmerized with the amazing details of this bike.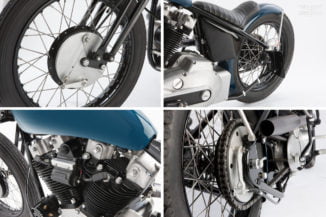 Lets get down to the build of this beauty, the only thing left of the rusted pile of 1976 XL parts is the engine and rear drum. Jesse used the original neck section of the frame and made a completely new custom rear section. The gas tank on Jesse's custom 1976 Sportster is a narrowed 2004 Triumph America tank from a salvage yard. The oil tank was hand fabricated from a sheet of steel; it was fitted with a filler cap from a vintage British cycle.
The fender is a GasBox original with custom struts. The handlebars were fabricated to accent the reproduction H-D VL Springer. The 19" front wheel is laced to a vintage BSA drum which has been customized to fit into the springer application. The rear wheel is 18" and laced to a standard XL drum. The brake has been modified to the location of the shifter, which has been switched to the left side by using a later case half.
The entire engine has been rebuilt and is running 9:1 compression pistons with PB+ cams.  The engine breathes through a 2 into 1 custom exhaust that utilizes a stock AMF muffler.  The headlight is standard H-D and the taillight is a Grimes model B off of a classic Cesna airplane.
From a distance when you look at this custom 1976 Sportster you like it, get closer to the details and this bike will become a must have thing. The design of the bike is well balanced with every detail of this beauty flowing perfectly. The finished bike is a dream bike for every working man including myself!
Check out the other featured bikes from The GasBox.