I was just thinking it is about time we featured another creation from the custom Ducati masters Radical Ducati.
Lucky for me their latest had just been revealed at this years Mulafest, and was ready to be featured on Moto Rivista. Here it is suitably named Wildcat? Perhaps, that's the question does this crazy custom match it's name…read on to find out!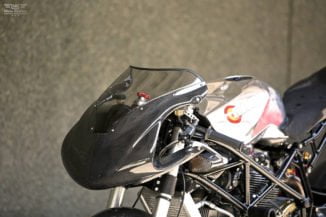 RAD 02 Wildcat started out with Radical Ducati's Cromo Molibdeno frame and a Montjuich aluminum subframe, which was mated to a S2R single-sided swingarm with Extreme Tech rear shock. Wrapped in the Cromo Molibdeno frame is a Ducati Monster 1100 EVO engine that has been fitted with a RAD 02 two valves engine carbon fiber airbox. Pepo's custom Ducati Monster WILDCAT also features a Wolfman exhaust system with BMW silencer.
At Radical Ducati the customization reaches to the extremes, these guys are not just buying parts off the shelf and putting the bike together. Most of Radical Ducati's bikes come with in house produced parts. Now the use of carbon fiber in Radical's bikes is pretty standard, Wildcat is no different and features various custom carbon fiber parts for one ultimate purpose and that is speed.
At the front Wildcat features RAD 02 Montjuich carbon fiber front fairing. Ducati 749 tin fork and a RAD 02 Montjuich aluminum front bracket. The wheels of this beast are BST carbón fiber, with Discacciati rotors, Discacciati radial calipers and Discacciati radial pumps. Other parts include an aluminum RAD 02 fuel tank and the RAD 02 CORSA EVO carbon fiber seat.
Without a doubt Radical Ducati builds some of the most amazing custom sports bikes of our time. Excuse me for a moment…I'm just imagining what it would be like to ride this beast Wildcat on the track!
Muchas Gracias to Pepo and Reyes for allowing us to feature Wildcat!!