Building custom theme bikes in America is not only a tradition it's also part of their custom culture. Well executed theme bikes can look great, but I have seen a few disappointing theme bikes getting unnecessary attention.
Thank God Darwin Motorcycles is there to get me out of the misery of the ugly theme bikes making the world news. Darwin Motorcycles owned and operated by Dar Holdsworth an ex Air Force Desert Storm Vet with a great sense for building custom motorbikes. His latest creation a US Navy Tribute Custom Motorcycle Aka Navy F3 Rocketeer was unveiled at Rolling Thunder Washington DC on the Memorial Day weekend.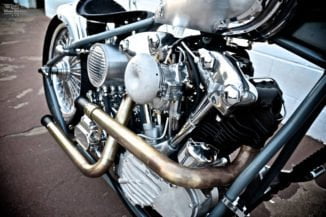 This US Navy tribute bike is based on Brass Ball Bobbers Rocketeer F3 edition. For this build Holdsworth has used a racing Innovations Darwin Rocketeer rigid frame. Mounted on the rigid frame is a S&S 93″ Knucklehead engine fitted with Baker 6-speed transmission and a 2-inch narrow belt system from BDL.
The fabrication work includes the tank and rear fender, which has been machined from solid block billet aluminum. Holdsworth has spent almost 300 hours of machining time and hand crafting on the tank and rear fender. Other fabrication work includes an aluminum oil tank, the finned sides are machined also from billet.
The rigid Navy F3 Rocketeer features an adjustable air bag system integrated into the frame, which provides comfort seat and vibration isolation reduction. At the rear the fender includes machined hidden ledges that are the exact dimension as the water jet steel struts Holdsworth created, allowing the rear fender to float above the tire. For the foot pegs Holdsworth has used an arresting cable from the USS Enterprise, which is on its final deployment before decommission, these cables are used to stop the plan when landing.
At the front Navy F3 Rocketeer features MeanStreet Slammer front end with mid glide, Wilwood front brake, Alloy Art's Panhead light, Biltwell bars, grips and risers.  While the rear houses Todd's Cycle's Mini Martini tail lights and Garage Leathers: Solo bag. The finished bike rolls on Ridewright 50 fat spoke stainless brushed with aluminum hubs & rims wrapped in Avon tires.