As my first custom project I have been looking for an old Sportster, that search has led me to the feature of the day a custom Sportster Aka SP-40. Built by Japanese custom Sportster specialists Hide Motorcycle.
The Sportster is a descendent of the Harley-Davidson model KH which had a flat head engine, whereas the later XL Sportster models had an overhead valve engine. The first Sportster came to existence back in 1957.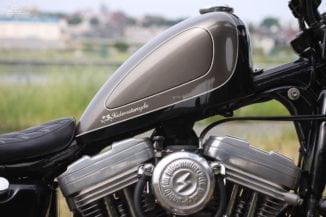 The new Sportster featured many of the same details of the KH including the frame, fenders, large gas tank and front suspension. Personally I think the Sportster is a desirable base for a custom build; from Cafe Racers to Bobbers or Choppers, the Sportster can be idol for any type of build.
Enough of the history lesson, lets get down to the build of this custom Sportster. To begin with the build Hide Motorcycle used a stock 2001 XLH883, which was striped down to the engine. First of was the frame which has been modified at the rear to adapt the new style. The stock XLH883 engine was fitted with a Hide Motorcycles original air cleaner and features Hidemo's original 2-into-1 muffler.
The fabrication work on this custom Sportster includes a hand fabricated rear fender and a one off fuel tank. At the front the bike features a Mid-ray par Hidemo's original handle bar, Hidemo Meter bracket and Hidemo indicator bracket with blinker assy.
At the rear this custom Sportster includes a HDM 11 inch short shock, HDM side bolt-on tail assy and a Hide Motorcycles original seat. The finished bike rolls on Avon SP M2 front tires and Super Eagle replica rear tire. It took two months of blood, sweat and beers in crafting this beautiful custom Sportster. The end result is a stunning bike with vintage looking colors and style.