Ever wondered what would be an ultimate custom street bike ? Well the boys from Dub Performance, France have got something that will leave you gobsmacked!
Gaining popularity worldwide over the past two decades is a style of custom bike known as Streetfighters, generally these bikes are stripped down Japanese sports bikes, with motocross bars, tuned engines and lots of stance.
Dub performance have raised the bar with their creation 'Proto Slug', which is a prototype built by Frenchman Fred Duban. According to Fred "The main idea of the bike was to bring something new into the business. To show what I could do besides the regular traditional style custom bikes I build."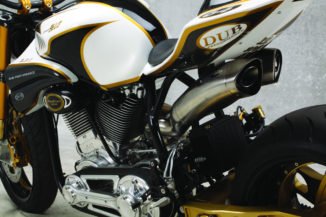 The build started with Fred taking one of his chromoly Street frames and customizing it by taking two degrees of rake out of the head angle to bring it back to 30 degrees; which also improves the steering. To create the high seating position typical of European Streetfighter bikes, the rear of the frame was raised. When it comes to dressing up the frame Fred decided to go with aluminum and carbon fiber. The gas tank and oil tank were hand crafted using sheets of aluminum. Carbon fiber was used to form the seat hump and the air intake on each side of the bike.
The Carbon fiber scoops feeds cold air to the Merch 131ci powerplant which has been rebuilt with rods, tappets, cams and rocker arms from JIMS and fuel fed by a Mikuni HSR45 carb. Looking at the bodywork you will notice that the tail section is from a Suzuki GSX-R, with twin Micron undertail exhaust cans snuggled underneath it.
Giving it an aggressive look is the Öhlins fork legs at the front of the bike, Fred originally designed the complete front end as a kit to use as an upgrade for V-Rods. Italian specialist Rizoma supplied the handlebars and billet raisers. Keeping this beast stable on the road is massive Avon tire, mated to what appears to be a custom forged swingarm. The bike also features other European manufactured parts including Beringer brakes; with the front dual discs being stopped by radially mounted four-piston calipers.
'Proto Slug' was also a competitor in the 2009 AMD World Championships of Custom Bike Building Freestyle Class.