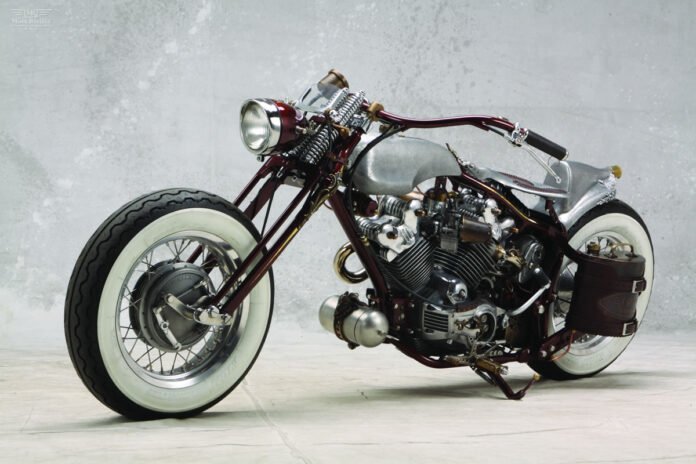 Irish fabricator Don Cronin has created a machine which looks like something that came out of Greek mythology, we imagine this is something Gods will be riding on their quest. What makes this machine special is the killer Irish craftsmanship.
The custom scene is full with usual v-twins but for this particular build Don Cronin chose an Italian Moto Morini 500cc V-Twin engine, which was sitting in two fingers of dust inside his shop. Don is not a mainstream custom bike builder, he is fully trained sculptor who also happens to builds bikes.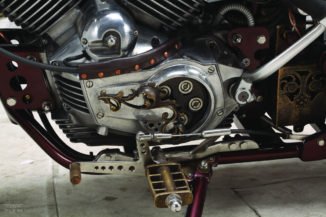 The Irish custom scene is quite small and as a result many of the people involved in the build know each other. The one off frame features an H-D softail swingarm and pivot plates and the shock mounts were relocated to the top of the bike from its original location. The shock was originally designed for use on a Victory and at the front bike features a DNA Springer fork. Since Don selected a Moto Morini engine the option for doing any modification to it was very strict, but nothing to discourage Don's build.
We mentioned earlier about Don's sculpturing background and this is the part where it really comes in handy! Don built himself a foundry and got to work casting parts for the motor, these included a cut away clutch cover, cut away cam covers and replacement of rocker boxes. Don also made a set of stainless steel exhausts and brass covers for the filters on the stock Dell' Orto carbs.
The foundry was also used for the creation of both the dummy gas tank, which houses the bike's foundry and the rear fender/taillight assembly. The actual gas tank is the brass pannier on the left side of the bike. More interesting features of the bike are ebay finds, a front Moto Morini Strada hub, and at the back a second rim was built onto a Moto Morini Enduro hub; this features a quick detach system that the sprocket and chain in place when the wheels are removed. The front and rear brakes are the stock Moto Morini drums and the tires were also purchased from eBay.
A man like Don is certainly adding some flavor to the custom scene by showing some killer craftsmanship. This bike is truly unique in every way and we can't wait to see what Don is going to build next!