I love Spanish cuisine for several reasons it has a great balance of flavors, it's hearty and it tastes damn good.
Now you might be thinking why am I talking about food instead of a bike? Well food is my other great passion and I can definitely find a connection between great food and a great custom build! You see balance is a core component of every thing whether its food or a custom motorbike, you need to find that balance in order to deliver the perfect result.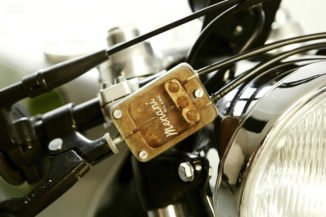 Spanish custom shop Café Racer Dreams manages to find that perfect balance in their builds. For the 'Grand Prix' build CRD looked in the timeline of history and in their own backyard they picked up a 1979 Ossa Copa 250, which became the base for their CRD #7 build.
Ossa was a motorcycle manufacturer based in Catalonia, Spain which was active from 1924 to 1982. Ossa Copa 250 featured a two stroke single cylinder with four fins and four transfers inherited from the Cross. This allows the use of mixture to 3.5%, a novelty considering the normal use in Ossa engines was 5%.
The Ossa frame was modified for more rigidity and was painted in satin black to serve the mighty engine, which was completely restored to its original glory. The Ossa engine was fitted with Mikuni 38 carbs and CRD hand crafted exhaust system. The fork was also modified with Ossa Kit Betor with HFS.
"Grand Prix" rolls on 18 inch Aluminum wheels wrapped in Bridgestone tires. A race replica tank was fitted with a custom tail unit with a CRD seat.  All the electrical system has been simplified to clean up this beauty, the battery was relocated under the rear seat and the ignition key was attached to the subframe. The "Grand Prix" is a classic Café Racer painted in classic silver and green, a tone that is never used officially in Ossa. The tail section was painted with Ossa's top official  green "Grass" logo with grey gunmetal threading.
Back in 1979 on the Ossa Copa 250 Dennis Noyes said in his Article "the bike smokes and drinks". I am sure this 'Grand Prix' Cafe Racer will get back to it's habit in no time! Now I am hungry for some Paella and I also wouldn't mind another CRD creation!