Influenced by the 60's Cafe Racer movement and driven by the fuel of passion is Plan B Motorcycles a workshop in Italy, owned and operated by Christian.
According to Christian "It's more like starting with something you have and trying to improve it by yourself, mixing classic with more modern bits, with an eye on performance and one on the beauty of the classic look. Kind of a Neo-Cafe philosophy.
Modifying motorcycles is something I've always done, I think it's maybe a compulsion; I can't look at something and keep it stock. I always think about changing this and that even my furniture at home isn't stock!
Building a bike is something really personal; the beauty of it is that everyone has a different way to do it. One day you can enjoy shaping some metal, the next is the electrical part or finding the right tank for the bike, that's what makes you happy. Even spending an hour only watching the bike is part of the trip and when you complete something you can feel good about it. That's it, that easy.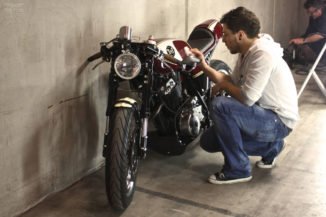 Plan B Motorcycles is a name for the projects I'm working on, I don't know how to call it, but it's what I really love to do and I try to learn something new everyday and I'm enjoying it! All!
The base for the build of Proto-Moto was a Yamaha XT600Z Tenere. It was my dad's bike, which was almost forgotten in the basement and in really bad shape. When a bike is only good for trash, there is always a Plan B….hopefully!
I've always liked the engine of the  XT600Z Tenere but not the ride and the desert-wanna-be look. So I started stripping it off and added a Ducati 916 front end and a couple of clip-ons. The headlight is from a Citroen 2CV and the taillight from a  Ford model A. The headlight supports work as blinkers and the rear ones found place a in the chopped frame. I also rewired the wheel hubs and fitted a Yamaha xs750 tank, and then I've modified a fiberglass seat to fit the frame.
The swingarm is aluminium with a custom made bridge on top and the monoshock is from a Ducati 1098 with a custom linkage. In the engine there is a new bigger and high compression piston (630cc), hotter cams, a polished and ported head and a couple of Keihin FCR 35 with a custom made exhaust.
All the controls were moved on the top yoke with the original rev counter fitted into a milk cup from an ikea thè set. The side covers and the bellypan are from a Triumph Thruxton".
Saved and given a new lease on life, this Yamaha XT600Z Tenere has been transformed into this beauty Proto-Moto…thankfully in this case there was a Plan B!