Today's featured motorcycle a 1957 Mondial Grand Prix DOHC Dustbin' will take you back in the time and will tell you the story of Mondial's racing glory.
FB-Mondial (Fratelli Boselli) was a motorcycle manufacturer from Milan, Italy; from 1948 to 1979. Mondial motorcycles produced some of the most advanced and successful Grand Prix road racers of the time, winning 5 World Championships. Mondial's success in the Grand Prix arena was partially due to employing riders like Mike Hailwood, Tarquinio Provini and Carlo Ubbiali.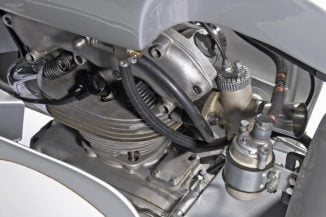 In 1948 Mondial manufactured their first motorcycle a 125 double-overhead camshaft. The bike was a great success and set speed records in the standing start ¼ mile and kilometer sprints. Most of the production on Mondial motorcycles was done by hand, which kept output low and production numbers ranging between 1,000 and 2,000 units per year.
In 1957, Soichiro Honda approached Mondial's owner Count Boselli to purchase a Mondial race bike, with which the firm had just won the 125 cc and 250 cc world titles. Count Boselli gave Mr. Honda a racing Mondial; Honda used this bike as a standard to which he aspired, in order to compete on a world-scale. An original Mondial 125 cc racebike is the first bike on display when entering Honda's Motegi Collection Hall.
This 1957 125cc Mondial DOHC GP racer was sold by Mondial in the late 1970s to Piero Nerini of Prato, Italy. This bike was sold as part of a clear out of the race department's remaining spares and motorcycles. Piero Nerini kept the bike for 25 years and later it was sold to John Goldman. Goldman's Mondial 125cc GP racer was restored to its exact 1957 racing specification by renowned restorer Morbidelli.
The final restoration work was done by Roberto Totti of Bologna, he was commissioned to do the final painting, chrome, and assembly . Roberto Totti is considered to be one of the top restoration specialists in Italy, he completed this Mondial in 2009.