AMD World Championships is full of passionate custom motorbike builders and it's considered one of the toughest competitions in the world.
The feature of the day 'Salt Flat' by Leroy-Thompson was a competitor at the 2009 AMD World Championship and took home 24th place. Built by Scott Webster, this bike was one of the more attention grabbers at that years Championships. Despite having a fascinating engineering approach this bike didn't make to the AMD top 20 list, it just goes to show how tough the competition really is!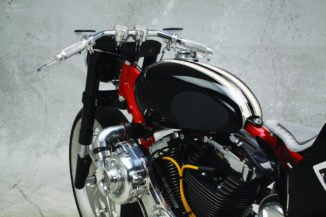 Lets take a look at the bike and appreciate the craftsmanship, since the bike was named Salt Flat it needed to perform as good as it looked. To accomplish this the Twin Cam 96ci Harley engine was bolted on with ProCharger B-1 supercharger.
The rigid Leroy Thompson frame has a 27-degree rake with 3-inch stretch and an inverted front end from Main Street. Salt Flat rolls on two 23″ Leroy Thompson wheels wrapped in Avon tires and Brembo front and rear brakes to finish the Salt Flat safely.
Salt Flat has a mix of both contemporary and old school, launch the photo Gallery to take a closer look at the details of the bike. The bright red frame works well with the rest of the bike, Frankie and Dylans from S&M have done a fantastic job with this paintwork. This bike is original and innovative, it's great to see people like Scott are trying to think outside the box and create something remarkable like Salt Flat.