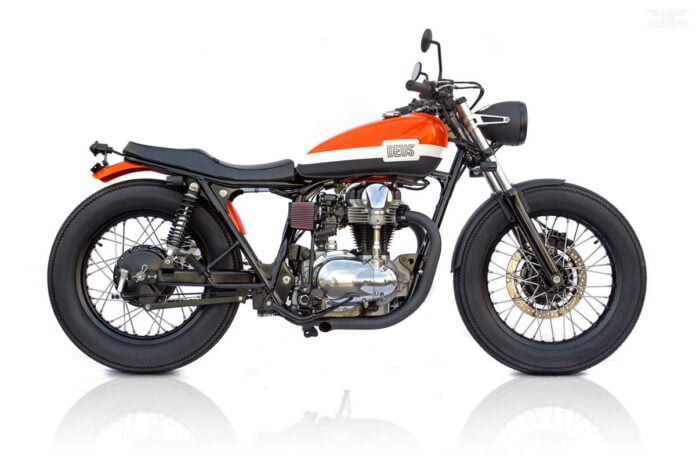 Randy de Puniet current Moto GP1 star has been involved with motorcycles since he was old enough to walk.
It seems the Moto GP1 track was not enough to burn out the adrenalin of Randy de Puniet, and so he commissioned Deus Ex Machina to build a custom motorcycle for the streets of Sydney.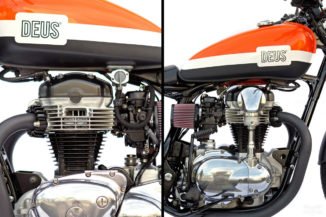 Randy's design brief to Jeremy (Deus Ex Machina head tech) was for the middleweight, 2-up twin, easy enough to kick around the streets of Sydney and enough power to blast off on the freeway. The brief also included the bike should be painted in the combination of orange, black and white.
Randy's design brief started taking shape around a stock Kawasaki W650. The stock bike was lowered at the front and rear ends. The rims and the hubs were dressed in a satin film of black. The bike was fitted with a Yamaha SR500 fuel tank with speedometer at the center front and a retro aesthetic headlight supports the tachometer.
The old air box was replaced with the twin K&N high-flow filters and a custom 2-into-2-exhaust system was fitted. Deus also added a low profile custom fender at the front and the rear of the bike. The fork internals have also been modified and the front and rear wheels are wrapped in Firestone tires. Later the bike was painted as described in Randy's brief.
Randy's design brief was delivered with 'The French Connection', Deus has done it again! The transformation from Kawasaki W650  to 'The French Connection' is classic. The power of the track is on the street, one thing we are sure is that Randy will be replacing those foot pegs quite often!