For today's feature we are taking a look at Jon's Honda CB750 Cafe Racer. Built as a daily ride for Jon, the bike is based around 1976 Honda Cb750.
MotoHanger based in Vienna, Virginia specializes in vintage older model Japanese motorcycles and custom Cafe Racers. Operated by Pat Jones, MotoHangar offers a wide variety of services including restoration services, repairs and custom fabrications.  To begin with the build the stock Cb750 was striped down to the frame. The rear of the frame was modified to suit the tail and the low profile leather seat.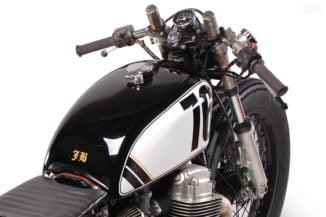 The bike has been lowered by an inch and a quarter at the front, which makes it look aggressive and gives it a Café Racer style. Our personal favorite is the Suzuki trials headlight with h4 bulb and mini mesh tech cover. At the rear the bike features Dyna Suspension and a Kawasaki kz tail. 'Jon's Honda CB750′ also features ceramic header wrap, super trapp exhaust and cone style air filters.
This custom Honda CB750' rolls on powder coated wheels wrapped in classic Firestone tires. Ryan from Royal Essex in New Jersey painted the bike in a race number theme by using jet-black paint with yellow and red stripes. All the fabrication work has been completed in house at MotoHangar's workshop.
The transformation from stock 1976 Honda Cb750 to 'Jon's custom Honda CB750' Cafe Racer is astonishing, from head to tail this bike looks amazing!
A new website and five sweet builds under his belt, we get the feeling Pat and MotoHangar are just getting started. Stay tuned we will be sure to feature another MotoHangar bike soon.