Today's bike a 1988 Honda GB400 Salt Lake Sickle started life as a vision on paper and was built for the Sydney Motorcycle Expo by Raider Motorsports.
According to Maurice "Many of our retro bikes have been designed around the engine, but with the SLS we developed a design that had flowing lines and form that made the engine somewhat secondary in consideration. With this project the priority lay with the fuel tank; our objective was to capture that iconic shape reminiscent of the American classics that dominated Bonneville during the 50's and early 60's; primarily Indian and Harley-Davidson.
After searching through our stock of old fuel tanks we finally decided upon a few possibilities, then it became a matter of finding the one most aesthetically proper for the design.  As always, the one that looks the best is almost guaranteed to be the least suitable so far as mounting and fitting over the rather bulky Honda power-plant.  At this point of the build all we have is the bare frame and engine sitting on the bench and nothing can progress beyond this stage until we know that the tank will fit and function properly.  Many custom builders pay little concern to the latter, using items that look great but hardly work.  As our customers will attest, an enormous amount of time goes into ensuring that a Raider Retro not only look great, but is capable of functioning as an everyday bike; it has to be capable of travelling a reasonable distance before requiring fuel, it has to be comfortable, it has to be serviceable without requiring hours of strip-down to access essentials like fuse & electronics etc, and most importantly, it has to ride great and be capable of delivering serious street cred!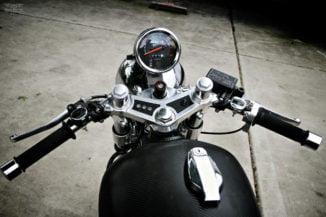 The Honda GB400 frame is marginal for structural rigidity and overly heavy for what it offers in strength.  We remove all the factory mounts and brackets, as well as everything rear of the upper shock mounts. Then we install gussets and bracing to increase torsional strength, and fabricate new mounts for ancillary items like oil tank and rear guard.  Like most production bikes, the OEM wiring loom suits several models and therefore there's a lot of unnecessary wire and weight; owing to the minimalist design we simply build a new loom and although the main harness ends up approximately 1/3rd the original, we decided to conceal the bulk of the loom within the frame.  This also helped with much-needed clearance under the fuel tank.  In order to achieve this we cut an opening in the main spar and fabricated a hatch that, once refastened, has no impedance to torsional rigidity.
The Honda GB400 engine is a screamer, and finding a few extra ponies isn't too difficult.  Mr Honda was a man after my own heart; even the engine for a basic commuter was deemed worthy of thought, and his design left potential for future enhancement.  After the engine is completely stripped the inlet and exhaust ports are reworked to increase airflow;; valves and seats cut and lapped by hand before we consider what sort of camshaft is best suited. To feed the hungry Honda GB400 we selected a 40mm Keihin carby that has a proven track-record for tuning and serviceability with highly modified engines.  This type of engine characteristic is ideal for blowing the doors of dozy drivers and leaving lethargic big capacity bikes lingering at the lights.
While engine work is going on the frame is sandblasted and painted in a unique 2-pack gloss black. The same coating is applied to fork boots and wheel centres, while the rims were bead-blasted and powder-coated before installing polished stainless steel spokes.
With our SFX project we realised the economics of a Honda GB400 are quite good for both urban use and spirited riding, With SLS we wanted to do something extra, something more in keeping with the bygone era we were trying to capture.  To achieve this we have shortened the wheelbase by changing fork and swing-arm heights, so in starting with a clean sheet we were able to include an adjustable foot peg design thereby allowing the ergonomics to be changed to suit the individual rider.
The Salt Lake Sickle incorporates another iconic feature a speedometer in an almost vertical position a reminiscent of the Vincent Black Shadow. In keeping with the era we did away with all the oem switch gear and used retro vintage controls on the bars, and concealed an aircraft starter button and three small LED's into the top triple clamp, most of which are oblivious to the casual observer.
Owing to the Honda GB400 having a dry sump, there's quite a lot of room under the engine so we decided to utilize this space to house the twin reverse cone megaphone exhaust, which exits just in front of the rear tire.  This also allowed us to lower the bike without having the exhaust restrict lean angle.
At this stage the bike was effectively complete but we hadn't been able to decide upon a color scheme.  A number of colors and stripe designs were tested but nothing seemed to work; the design was screaming for something different so we looked outside the square and found a  relatively new process called Carbon Wrap. However, it was also around this time that we were invited to contest the Just Bikes Biker Build-off and so with a little over a week up our sleeve and not enough time to receive, let alone practice applying the carbon wrap, we made the rather audacious decision to leave Coffs Harbour a day early, collect the carbon wrap along the way, and spend the day before the show applying it to the bike."
This Honda GB400 Custom Salt Lake Sickle is not an old bike with a few retro parts fitted, this is beautifully designed, hand built bike which goes as good as it looks. Every Raider Retro consumes around 150 man-hours and the SLS was no exception racking up a total of 173 hours, so at $14,990 it's an insanely good price for an insanely good bike.
Special thanks to Maurice for giving us another detailed account of the work involved in his custom projects!