The best job in the world is the one you want most and you get to do it. Today's feature build a Kawasaki KZ440 Bratstyle is keeping my hope alive that one day I will build a custom motorcycle!
To me Luke Barreto is one lucky guy who is not sitting behind a desk and talking about building custom motorcycles. He is actually doing it; his most recent creation is this Japanese Kawasaki KZ440 Bratstyle.
Luke tells us "I'm a 25 year old mechanical engineer who grew up in Oregon. I grew up in a machine shop so I've been working with steel my whole life. I became interested in cafe and custom bikes when I was living in Los Angeles a few years ago. After moving to Boise, I rented a small shop and started picking up bikes to work on.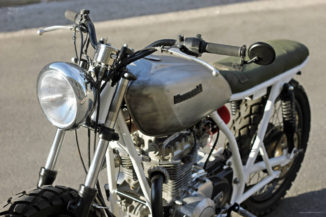 This Kawasaki KZ440 had been sitting in the original owner's garage since the early 90's after he blew up the starter motor. Since it's the 6-speed, electric start only model, he never replaced the starter and it sat ever since. I picked it up on craigslist earlier this summer and within the first two days had it running and started stripping it down to the frame. I built a new seat frame and pan, a custom battery box under the seat and a pocket for all the wiring to hide in.
The stock KZ carbs are notorious for not working well with pod filters and any exhaust modification so I decided to start from scratch and fabricate a single-carb manifold for it. I bought a new Mikuni VM34 carb and put a shorty 12″ muffler on it. The jetting took some effort, but the results are fantastic.
It went through one previous color scheme of black frame with tan leather seat until I decided to strip it again and go with a white/green combo. The tank only had one small dent in it, so I stripped it to the steel and did a lightly brushed look.
I made the seat myself from a surplus military parachute pack. I saw the pack while picking up some camping supplies at a surplus store and instantly thought the straps and stencil letters would make for a perfect seat.
Having grown up on dirtbikes, I prefer riser bars and stock footpeg placement to clipons and rear-set pegs. I actually just picked up an '83 Honda XL600 to build into my personal bike.
This bike is currently for sale locally but since having it for sale, I've been contacted by four people looking to have me take their bikes and build them so I should have plenty more examples of my work in the near future."
The finished Kawasaki KZ440 Bratstyle has good proportions and great lines, nice work Luke. That's it; I'm heading to Swinburne UNI to get my mechanical engineering degree and an apprentice job in a machine shop!!