Triumph is back at Bonneville in 2013 with its latest streamliner effort. The Castrol Rocket was developed by Castrol, Hot Rod Conspiracy, Carpenter Racing and Triumph North America.
The Castrol Rocket incorporates all of the ingenuity and racing prowess of the four Triumph-powered land speed record vehicles of the 1950s and 1960s (all with 650cc production-based engines), plus the best of today's technology in engineering, aerodynamics, safety and power plant performance.
"Castrol has been actively involved with land speed racing on multiple platforms across the globe and since competitors started running at the Bonneville Salt Flats in 1914," said Rob Corini, Brand Manager, Castrol Motorcycle and Powersports Products. "The Castrol Rocket personifies our heritage as a performance brand, with an incredible balance of power and aerodynamics, and is capable of amazing speeds. It's the ultimate symbol of performance."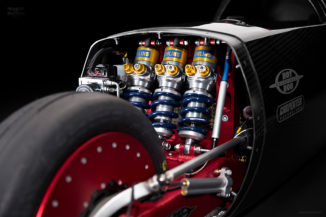 A shared passion for land speed racing brought aerodynamic engineer Matt Markstaller, engine builder Bob Carpenter and Daytona 200 winner Jason DiSalvo together. The team quickly discovered a shared interest to create and race the world's fastest motorcycle. The Castrol Rocket is their labor of love — an homage to the high-performance heritage of Castrol and Triumph.
"Land speed racing is the purest form of motorsport. It's about bringing all of your ingenuity, resources and determination together for a constant battle against the elements," said pilot Jason DiSalvo. "The salt surface has little traction. The wind pushes against you from every side. But what's really special about Bonneville Land Speed Racing is the people. The conditions are so challenging that for the past 100 years, racers with little else in common, have banded together to support and encourage each other to become the world's fastest."
The Triumph name has been synonymous with speed since its four record-breaking motorcycle records with Devil's Arrow, Texas Cee-gar, Dudek/Johnson and Gyronaut X1. From 1955 to 1970, with the exception of a brief 33-day period, Triumph was The World's Fastest Motorcycle. The Castrol Rocket aims to restore that title.
"This project is a celebration of Castrol and Triumph's motorsports heritage, innovation, courage and perseverance," said Greg Heichelbech, President and CEO, Triumph Motorcycles North America. "It's an incredible opportunity to simultaneously chase history and celebrate your heritage. Our hats are off to the Hot Rod Conspiracy/Carpenter Racing team and all of the racers who make land speed racing such a colorful and meaningful sport."
CASTROL ROCKET SPECS:
Chassis: Carbon Kevlar monocoque
Dimensions: 25′ x 2′ x 3′
Engines: Two Triumph Rocket III engines
Horsepower: 1,000-plus-horsepower at 9,000 rpm
Torque: 500-plus lbs. combined
Suspension: Custom made by Hot Rod Conspiracy
Fuel: Methanol
Tyres: Goodyear Land Speed Special