Arizona based Del Prado brothers have rolled out another tastefully customized Ironhead. Introducing their latest creation Seventy Three a black and blue beauty.
Jarrod tells us "This was an exciting build for us because because the customer is local in Phoenix AZ, and he's a really cool guy. He was born in 1973, and he always wanted a 73 Ironhead Harley that he would customize. He found a 73 donor bike and brought it to us with some basic styling requirements: Lots of black, and hints of blue.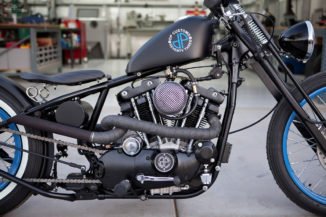 The biggest challenge was, without a doubt, the frame. Someone else had raked and hardtailed it, but it was as crooked as a politician and the welds looked like they were strips of bacon. We put it up on the jig, and Justin chopped and refabbed about 75% of it, from the neck to the hardtail.
We used a black springer and powder-coated the cam cover, sprocket cover, primary cover and rocker boxes in satin black. Justin did his signature bitchin crossover exhaust in black, and perfectly followed the tips with the lines of the frame.
Our favorite part of this build is that we were able to stick with the 'all black' theme while mixing in the traditional bright colors that DP Customs is known for. The hint of white and blue on the matte finished tank blends perfectly with the bright blue wheels and the whitewall rear tire. Oh, and we're proud of the ultra sano wiring throughout the bike and lack of clutter. It's one mean looking machine!
The customer was blown away when he saw it. I believe he said it was 'perfect' about Seventy Three times!"
With more hand made parts than can be mentioned, at nearly 40 years old this bike looks like it was born yesterday!!