The Indian Motocycle Co was originally founded as the Hendee Manufacturing Company by George M. Hendee in 1897 to manufacture bicycles. During the 1910's Indian became the largest manufacturer of motorcycles in the world. The Indian factory team also took the first three places in the 1911 Isle of Man Tourist Trophy.
Since the beginning of motorcycling one engine design has raised above all others reflecting enhancement, elegance and comfort. In the beginning it was Belgium's F.N. four-cylinder motorcycle, later it was adapted by American companies like Pierce, Gerhart, Henderson, and later by Cleveland.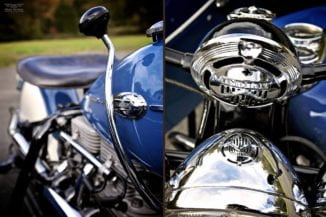 In 1927 Indian decided to carry the banner of four cylinder motorcycles with the purchase and now ownership of the name, rights, and production facilities of the Ace Motor Corporation. Production was moved to Springfield and the motorcycle for a year was marketed as the Indian Ace.
In 1931 when Ignaz Schwinn ceased production of his four cylinder Henderson motorcycle to save his bicycle empire. Indian was left as the sole provider of four cylinder motorcycles in the United States, and the Sporty Ace became the Indian Four.
Despite low demand for luxury motorcycles during the Great Depression, Indian continued production of the Four and also continued to develop their motorcycles. One of the less popular versions of the Indian Four was the upside down engine on the 1936-1937 models. Although Indian didn't sell as many Fours as it did the Chief and Scout models it was probably maintained as a technological flagship of the model lineup.
The one you see here is a 1941 Indian Four with Indian sidecar, an amazing combination. This Indian Four has matching engine and frame numbers and was restored by Ted Tine's Motorsports. This Indian Four has been tastefully restored in authentic Indian color scheme of Seafoam blue with white fender skirts. This bike has also earned 100 points at the Antique Motorcycle Club of America and is one of the best Indian Four restorations in the States. This vintage glory was up for auction at Bonhams for around US$ 75,000 – 90,000.