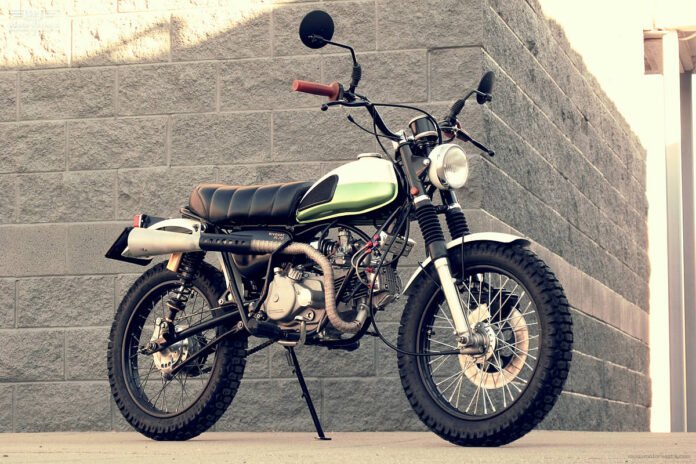 Todd Hunter from Northern California has taken a old stock Honda SL70 and transformed it into one heck of a scrambler. Honda SL70 was first introduced in 1971; it was a small motorcycle with a cradle frame and four-speed gearbox.
According to Todd "I began riding motorcycles fairly late in life, I bought my first bike, a 2006 Triumph Bonneville T100, new from a dealership when I was 40. I have also been building and customizing scale motorized models for as long as I remember and have a passion for miniature mechanisms and environments. The horizontal engine Honda's are like "scale models" of full size bikes – all of the same components and challenges to build, but with less complexity, and less risk.
My resto-mod philosophies – To achieve a sort of factory original look but with modern equipment. Often, subtle visible hints of being modernized are unavoidable and/or desired. I want a person who has memories of, or is familiar with a vehicle to look a little closer and say, "Wow, I wish they built these like this when I owned one". I aim for a simple "cleanliness" of lines and appearance. A balance of function and form – instead of one following the other. I have done this with a few boats, an old camper, old Jeep, and now – 7 Honda mini motorcycles. My next build will be a proper sized bike….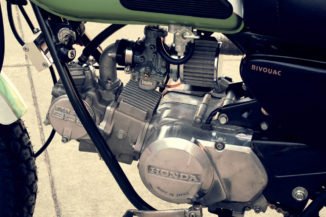 This Honda SL70 was purchased as a campground bike to be strapped to the back of our camper and used for errands and mini ADV rides into the mountains. I kept thinking about how it has a proper frame and not a pressed steel frame like most Honda minis and how I wanted to modify it somehow, even though it needed nothing for the purpose it was purchased for. A friend of mine races vintage motocross bikes and turned me on to the ISDT races. I watched some old video of these races from the late '60s and really liked the look and romance of the vintage scrambler type bikes.
The idea behind the build was to convert a 1971 Honda SL70 to a scrambler style with modern amenities. I wanted it to have longer stance, and the seat and tank to be more horizontal which really changed the entire look of the little bike.
The build started with a 1971 Honda SL70 street legal in CA. The engine was built from Honda 50cc to 124cc with JDM Takegawa parts, custom oil cooler, etc. Supposedly makes 15 or 16 HP and allows this bike to keep up with most 250s around town. The ignition is 12 volt CDI but I use a 6-volt reg/rec, battery and bulbs. The engine is also fitted with Mikuni VM26-606 and '80s era Cobra Muffler from salvaged ATC125 three-wheeler with custom internal baffleing.
The Stock SL70 frame with tab for oil cooler mount was welded below the head tube, and a relocated bracket for seat/tank mount to level out the tank and seat, both welded by me. The seat features stock pan with custom comfort-butt quilts (its a tiny bike that I ride the shit out of, you know!).
At the front this Honda SL70 Scrambler features, Renthal aluminum with black epoxy coating and a stock 5″ diameter metal bucket headlight. The fuel tank is stock SL70 with logo indentations filled and smoothed, mounted 5 degrees higher than stock at the rear. The stock SL70 rear fender was relocated 4″ aft with custom bracket to accommodate the longer swingarm. While the front was relocated to tire hugger level and mounted with fender stays fabricated by me, both fenders were painted to match the tank.
The front wheel is a stock SL70 16″ rim laced to 1974 Honda CB125s hub, with CB125s mechanical disc brake and caliper that I chose to add because without it, this build would have been too easy. The 16″ rear wheel was salvaged to replace stock 14″ rim laced to stock SL hub. The front and rear wheel was wrapped in Shinko tires.
Honda SL70 Scrambler also features a swingarm from 1983 Honda XR100 with tabs ground off and twin gas shocks. The forks are stock triple clamps using SL70 upper pipes with CB125s lower housings using all internal springs and pistons from SL70 but flanged guides and seals from CB125.
The biggest challenge was the front suspension. Figuring out which factory parts were compatible to achieve the look I wanted. This includes the near archaeological restoration of the internal caliper mechanism in the cable-actuated disc brake that looked like it had been recovered from a sunken shipwreck. The front end is a hybrid cocktail of Honda CB, SL, CL, and CT parts – some of them cut to fit. Another challenge was teaching myself how to weld.
Last but not least is the paint job, which was done from spray cans. The green is Honda automobile paint from 2008 called Kiwi Green Pearl, and the white is Duplicolor. Green was mixed and put in cans for me by an auto body supply store. Clear coat is a 2K (2 part) rattle-can that includes a hardener capsule in the can that is broken and mixed with clear before use. The frame is painted Krylon Oil Rubbed Bronze wich has a unique sublime olive/gold tone to it in the sunlight, then clear coated.
From building customizing scale-motorized models to building this beautiful Honda SL70 scrambler, Todd has shown us that anything is possible at any stage of our life!
Special thanks to Todd for putting together the details of his build.