Kawasaki W650 based flat tracker named 'Gold Digger' has just rolled out from Ton-up Garage Portugal. Kawasaki's W650 was designed to reflect the legacy of a Meguro motorcycle.
Here's Pedro to tell us about Ton-up Garages latest build  "Since the beginning of Ton-up Garage we wanted to build a Flat Tracker. As we both (Pedro and Daniel) are off road riders (enduro), we had the ambition of building a motorcycle that's in the middle, between road and off road.
The base of this motorcycle is a 2004 Kawasaki W650. When we found this bike it had already had some customization, so it wasn't in its original condition.
Regarding the Kawasaki W650 engine, we haven't changed anything and it still is as the stock version. The admission had the air filters changed. The exhausts were designed and produced handmade for this bike. The rear was shortened and new covers were added to the rear and on both sides of the bike beneath the seat. On the sides we have also added the number plate. The tank was replaced for another tank smaller than the original one and the seat was redesigned to become a single seat unit.
On the front we have used a grilled headlight to bring a more off-road style to the bike and we painted it in white pearl. The indicators are small units so they can be unnoticed on the bike. We also chose a very small speedo for the same reason. This custom Kawasaki W650 has an off-road handlebar and clutch lever and we decided to use white handlebars to combine with the other white parts on the bike. The wheels were painted in black and were fitted with off-road tires. The original rear shocks were replaced by two Öhlins shocks and the front brake was also replaced for a stronger brake disc system.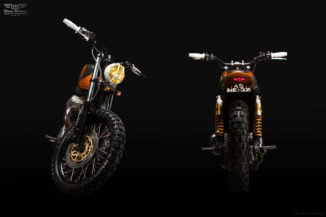 Regarding the mirrors, they didn't fit anywhere…(who wants mirrors on a bike like this?)
We've decided to paint the bike combining three tones, black, gold and pearl white. We wanted to combine bright colors to bring out its youth spirit but also use colors that give the bike a certain distinction. Nevertheless, she immediately calls for a Speedway Racetrack!"
The Gold Digger is a new player on the scene, ready to dig deeper and deeper until gold starts popping out from the ground!!!
This Kawasaki W650 'Gold Digger' will be offered for sale in November 2012. Joel Bessa captured the bike beautifully; launch the image gallery to see the shots up close!