Hailing from the Spanish city of Barcelona is La Corona Motorcycles, a custom workshop filled with passion and desire for motorcycles. Their custom machines are discreet and unique in their own way – starting with this custom BMW R100RS.
The base for this La Corona transformation was a 1981 BMW R100RS (originally red with black outlines). The stock bike used to have complete fairings and cases, which were completely stripped off. La Corona Motorcycle's goal was to build something simple and "naked".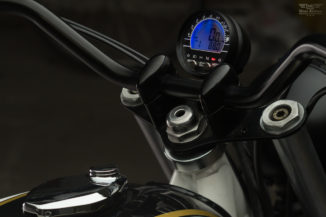 Up front, the original handlebar was swapped out for a dirt track version, which gives the bike a more comfortable riding style. The clock is made by Acewell Digital and the bike also sports a small on-board computer. The stock wheels were replaced with a set of golden yellow racing mesh "like" wheels and wrapped in Firestone ANS Military tires (19 x 4.0 front and 18 x 4.5 rear). To give the bike a more tracker feel, the stock BMW R100RS fuel tank was replaced with a Kawasaki kz750 tank, which also received a fresh slap of paint – a beautiful vintage style.
All the electrical wiring has been replaced and simplified. The battery has been repositioned and sits on a new resting plate under the engine. To give a more "scrambler" look and feel, La Corona Motorcycles have added Scrambler style front and rear lights.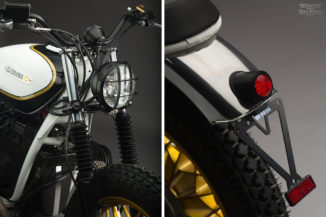 The stock air filters and case were removed, and a new cover was constructed to suit the lines of the bike and its engine. The case cover will soon become available for sale through their website.
The finished custom BMW R100RS has been cleverly altered; from front to back, this bike has great lines. My Personal favorite on this bike has to be the Kawasaki kz750 fuel tank, whats yours?
According to  La Corona Motorcycles "The BMW has a real La Corona touch to it and we are very proud of this great bike. This custom BMW R100RS up for sale, for more info please visit La Corona Motorcycles.