What would you prefer if you were given a choice with your custom build, a custom motorcycle with a simplified natural look or the customization to the extremes?
I am sure many of us would go for a custom build with a simplified natural look. But achieving that simplified natural look is not that easy, the temptation of bling bling chrome and with a plethora of custom catalogs the hardest part can be knowing when to stop!
A Northeast Portland based motorcycle garage The Tarantulas knows exactly how to build a simplified natural motorcycle, which will grow on you each and every day.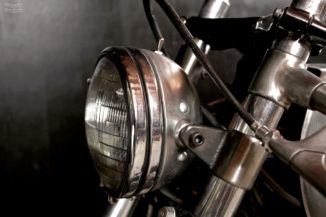 The Tarantulas are a bunch of friends who love restoring and building custom motorbikes. These guys have a jaw-dropping portfolio of custom bikes, with each and every build featuring incredible details from the leather work to the fabrication.
For today's feature we are taking a look at their beautiful creation 'The Natural' a 1976 Honda CB750F SS. The build of The Natural was a collaboration between James Crowe of Crowe Customs and Scott Thomason from The Tarantulas.
The bike was a couple years off and on in the making. The build of the The Natural started out as an abandoned bike that was taken to the garage and all the unnecessary useless crap was pulled off from the stock bike. According to Scott "The plan was to create a bike that was Natural – brushed metal, gum rubber and leather looking vinyl was used."
James Crowe of Crowe Customs did the bodywork and hand fabricated the rear cowl and the seat pan. James also built the new battery box and custom clip-ons with in-house produced levers. The oil tank is hidden beneath the rear cowl.
Ginger at New Church Moto was commissioned to craft a new leather seat, the contrast between the tan-leather and brushed steel looks amazing on this motorbike. Overall the finished 'The Natural' Honda CB750F SS has the blend of classic touches with modern day performance. Jump on their website (The Tarantulas) to feast on some more tastefully customized motorcycles.