Just like Sashimi, the Yamaha SR400 can be spotted on almost every corner of Japan. Every time we think we have seen enough of Yamaha SR400 based custom motorcycles, we come across another tastefully customized example to reignite our interest.
This time it's our Japanese friend Hiro & the guys at Motor Garage Goods who have left us thunderstruck. Their latest creation a custom Yamaha SR400 aka  "The Pop Racer" is the feast of the day. Arguably the Yamaha SR400 must be the most customized motorcycle in Japan, hopefully we will be traveling to Japan to explore the custom scene soon and will be able to confirm if this is case in fact!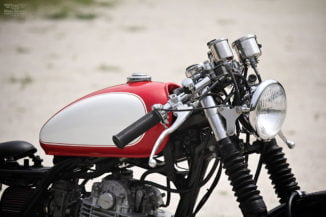 Fact from history "The Yamaha SR400 is basically the same bike as the SR500, but with a shorter stroke and heavier muffler to pass tighter emission restrictions. The Yamaha SR400 featured the same air-cooled, 4-stroke, overhead cam, 2-valve, single-cylinder engine from the big XT500."
At Motor Garage Goods the custom Yamaha SR400 examples have almost gone through every custom style you can name. Motor Garage Goods is not just rolling out custom bikes, these guys are also manufacturing custom parts for Yamaha, Kawasaki, Honda, Suzuki, Harley and Triumph.
The build of this custom Yamaha SR400 started with stripping down a stock SR400, surprisingly the stock frame remained UN-chopped. The stock SR400 fuel tank was replaced with a banana tank painted in red and white. The fabrication work includes a custom front fender fitted with a pipe work front fender kit and a rear fender. The stock engine was overhauled and has been fitted with a Goods up sweep trumpet muffler.
At the front this custom Yamaha SR400 features a D side mount headlight with custom headlight stay. The stock handlebars were replaced with 35mm clip-ons; the grips are Jack hummer grips fitted with an AMAL-type throttle holder. At the rear the customization work includes MT110 side kit taillight and Goods rear g-suspension.
One of the great things about this custom Yamaha SR400 is the UN-chopped frame, which also brings the classic look to this Japanese pocket rocket! Our favorites on this custom Yamaha SR400 are the banana fuel tank and the up sweep trumpet muffler, whats yours?
Another classic transformation from Motor Garage Goods, visit their online shop for custom parts. Check out the other featured bikes from Motor Garage Goods.