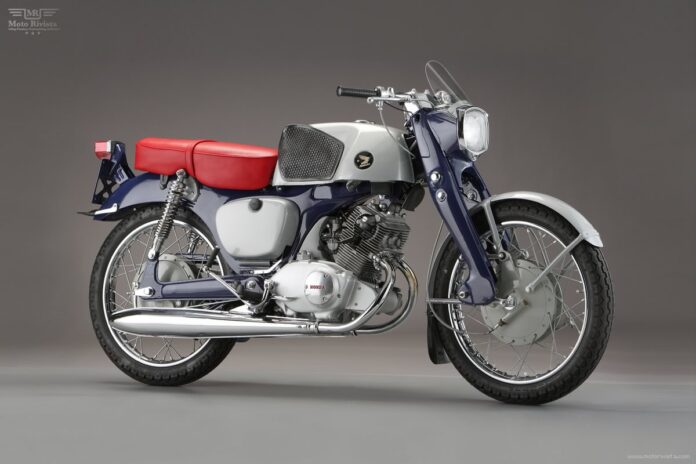 The Honda Benly CB92 Supersport is the true classic in the 125 line of motorcycles of the post-war era. Honda Benly CB92 Supersport was instantly recognizable among fans of Honda Motorcycles ; it was produced from 1959 to 1964.
The  Honda Benly CB92 Supersport was remarkable for its performance and it's level of standard equipment. The Benly CB92  was based on the Honda CB90, which was built as a prototype in 1958. The unusual specification of the  Honda Benly CB92 Supersport was pure temptation for motorcycle enthusiasts. The world of motorcycles was amazed with the details of this Japanese classic.
The Honda Benly CB92 Supersport featured a 124cc engine delivering 15 bhp, propelling this machine to 85mph plus. Though the crankshaft was of the 360-degree type, the Honda varied from the usual British twin by the quality of its unitary construction, horizontally split crankcase and chain-driven overhead camshaft. These latter features, together with the pressed-steel spine frame and leading-link front fork – influenced by the contemporary NSU Max – would remain common to Honda twins for many years.
The  Honda Benly CB92 Supersport featured an electric starter, which consists of a 6-volt battery and a kick-starter. The front drum brake had a diameter of 203 mm with a coating width of 30 mm and was a double cam brake, the rear brake drum with a diameter of 178 mm was a single cam brake.
In the beginning the tank was painted aluminum, as well as the front fender. Another interesting feature was the headlight housing a small windshield. The frame was made with pressed steel profile sections, which is similar to the earlier Honda Super Cub C100 and SS50.
The The Honda Benly CB92 Supersport proved an outstanding success and today is one of the most desirable and sought after of early Japanese classics, it has also become one of the most collectable of early Honda's.