Harley-Davidson FXDL is a beautiful bad ass motorcycle but for some reason it doesn't appear very often on the American custom scene. The custom scene it does appear in is Japan, and the proof is this custom Harley-Davidson FXDL modified by our friends at Motor Garage Goods.
The style of the Harley-Davidson FXDL low rider originated from the old school garages and chop shops and later Harley brought it into production.
I am a proud owner of 2010 Harley-Davidson FXDWG Wide glide, which comes from the FXD family. I have done a few catalog modifications to it but that's how far I could go with customizing it. I thought maybe there is not much which could be done with this bike, but when I look at the Motor Garage Goods custom Harley-Davidson FXDL I see the possibilities. But, I am still hesitant to chop anything off my FXDWG Wide glide, since I have spent the ridicules amount of $30,000 on it!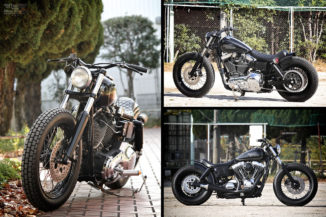 This custom Harley-Davidson FXDL has been heavily modified and the majority of the custom parts come from Motor Garage Goods own in house production. To begin with the build Motor Garage Goods have taken a stock 2003 Harley-Davidson FXDL and stripped it down to the frame. The stock frame was modified at the rear. The front fork was raised by 2-inches while at the rear the stock suspension was swapped with progressive.
The fabrication work on this custom Harley-Davidson FXDL includes a one-off hand fabricated fuel tank and a narrowed and chopped stock rear fender. The engine has been fitted with 5′ round air cleaners and a one-off 2 into one muffler.
At the front this custom Harley-Davidson FXDL features a one-off handlebar and a Motor Goods Twin hall switch box.  Also diamond handlebar grips, aluminum billet throttle holders and Motor Goods 3 inches of clamp mirrors. I really dig that side mounted φ60mm mini meter speedometer. There is a vintage style unity headlight and a one-off headlight stay. Check out the one-off foot pegs and the mini-horn, more interesting parts from the Motor Goods range. At the rear this custom motorbike features a vintage style taillight.
The finished custom Harley-Davidson FXDL rolls on 19-inch front and 16-inch spoked rear wheels, wrapped in Avon Safety Mileage MK tires. Motor Garage Goods have finished this bike in a slim, sturdy and aggressive style. Anyone who ones a FXDL visit Motor Garage Goods online shop to kick start your own custom project. Check out the other featured bikes from Motor Garage Goods.