The waves of custom motorcycles from the

2013 Verona Motorcycle Expo

have hit our shores. We are privileged to feature another build from the Italian master craftsman Mr Martini, introducing the custom Triumph Sprint British Racing Dream.
With any custom build whilst we are excited to see the end result what we are really fascinated with is the nitty gritty. We want to get inside the mind of the builder and understand what journey they took from start to finish. Knowing these details allows for a far better understanding and appreciation of the work of the custom artist.
And so goes the story of Mr Martini's Triumph Sprint, British Racing Dream… It all started with an old dresser. A dresser with a hundred drawers – junk drawers full of the things that you don't know where to put them, things which could be useless, but you don't want to throw them away because you are attached to them, or because there is a possibility you could use them in the future.
Nicola opened one of those drawers and found some old technical files of the 70's sport cars that an owner of a dealership had given to him. He opened the pages and saw a race car painted in the classic English green, or British Racer Green.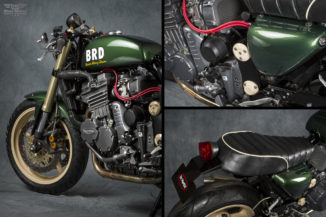 Mr Martini loves this color, bright and trembling, the color of the old Honda 350 four of the 70's. But he loves the 3 cylinders of the 90's too, and as if by fate, caught a glance of a Triumph Sprint. Here explodes the spark: create a classic motorbike with racing components, sporty but handy, this time with a double seat.
The motorbike has been completely disassembled, replacing the front axle with an axle from a Yamaha R1. Steering, suspensions overturned stems, double-disk brake, racing handlebar, rim and brake pump: everything belongs to the sporting bike for excellence.
The most laborious work that Nicola had to deal with was to adapt the small tank to the frame which was shortened. Therefore all the electrical system had to be moved. Once this delicate balance was achieved, the tank was painted in the green color, so sporty but in the same time so elegant. The shiny black frame and the hazel rims are a perfect compliment to the green color.
An old glory that revives with a more contemporary and sophisticated look. The black saddle makes the motorbike very comfortable for two people. Others details, such as the Monza-style cap on the tank, Mr Martini's racing air filter, Metzeler tires and a Zard exhaust, rival aggressiveness and preciousness that make the British Racing Dream a motorbike built to dream!