Today we are taking a look at a custom Honda CB450 K1 named Elvis by Ellaspede, a classic transformation with a modern twist. Brisbane based Ellaspede is a hub for motorcycle culture and creativity.
Ellaspede utilizes traditional and modern automotive design techniques to create a range of hand crafted custom bikes, bespoke parts and limited run apparel. These guys are driven to challenge the norm whilst still providing the utmost attention to detail and innovation.
"Ellaspede is a lifestyle that we're living with you. A passion for motorcycles, clothing and products that transcend time and place. We're about riding, the search for fun and freedom through creative machines and clothing. Ellaspede is using a background in industrial design to push the boundaries for what's available for custom builds and bespoke motorcycle parts. At the same time our growing catalogue of apparel is evolving to support those living the motorcycle lifestyle with us." says Ellaspede
The main aim of this build was to restore the bike but also implement tasteful mods in a subtle way, to give it more or less a factory finish but freshen up the look.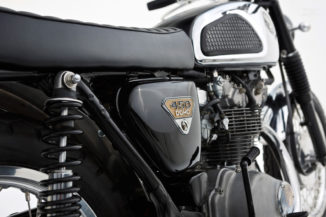 The base for Ellaspede EB022 was a 1968 Honda CB450 K1. The frame features slight rear modification to adapt the lowered seat. The stock front suspensions were reconditioned while new Ikon items now hold up the rear. At the front this custom Honda CB450 K1 features tracker bars with internal wiring and posh barrel grips.
" The biggest challenge of the build would have been the fine-tuning of the engine and electrical components.  Given the age of the motorcycle, many components required a time consuming amount of fine adjustment to reach the required level of finish for an Ellaspede bike."
The engine was in good shape so work here was limited to blasting, polishing, some new gaskets, a carb clean and kit and a new bolt kit to freshen the look.
The seat uses the original steel pan modified with new shaped seat rubber and vinyl upholstery in a similar style to the original. The "ELVIS" tag was at the customers request and is in the original Honda font. The wheels were reconditioned with 2.15 x 18 front and 2.50 x 18 rear aluminium rims, new spokes and bearings etc. Whilst the tyres are Dunlop Roadmaster TT100 3.5 front and a very snug fitting 130 rear.
The stock controls were refurbished and repainted. The tail light is original on a lowered original mount and the indicators are from Posh.
"One of our favorite aspects of the build would have to be the lowered side mount ears for the front headlight. It's a small but intricate modification that gives the front end a lower and meaner appearance, yet without pointing it out many people would not notice it. I think it sums up a lot of our modifications at Ellaspede, subtle changes that enhance the overall motorcycle build."