This month is dedicated to Vintage and Classic motorcycles, we have already featured a variety of British, Italian and American motorcycles on Moto Rivista. For today's feature we will take you back in time with a BMW classic, a 1968 BMW R60/2 with Steib S350 Sport Chair.
Throughout history German motorcycles have been the pinnacle of motorcycle engineering. BMW's motorcycle history beginning in 1921, started with the manufacturing of engines for other companies. BMW's first motorcycle the R32 was introduced in 1923 under (Bayerische Motoren Werke AG). I am yet to meet any one who has said they don't like BMW motorbikes!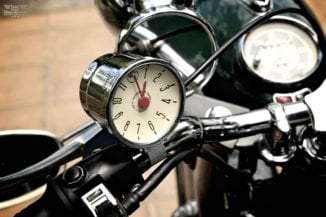 The R32 turned into the foundation for all future boxer-powered BMW motorcycles. BMW oriented the boxer engine with the cylinder heads projecting out on each side for cooling, as did the earlier British ABC. While the other manufacturers including Harley-Davidson and Douglas aligned the cylinders with the frame, one facing towards the front wheel and the other towards the back wheel.
In 1961, BMW upgraded the engine of their 600cc R60 boxer twin and added a /2 to the designation. BMW R60/2 featured telescopic forks on some of its slash-2 models, and they were continued into the 1969 model year. The /2 series with its Earles Fork has become one of the most collectable post-World War II BMWs.
The one you see above in the picture offered with sidecar outfit is a 1968 BMW R60/2 with a rare Steib S350 sport chair with a boat tail. This classic beauty features an aftermarket 9.5 gallon Heinrich fuel tank with cutaways for the sidecar mounts. The color is one of three police greens available in that era, completed with mint stripes and palladium accents. Another aftermarket part on this beauty is the tachometer and refers as VDO "Gold" clock. Headlight mirrors are accurate replicas of the original Albert's. Handlebar end turn singles features the proper Hella lenses and the bike also has a rear view mirror.
This 1968 BMW R60/2 with a Steib S350 Sport Chair Motorcycle was auctioned at Bonham's and was sold for US$ 42,120.