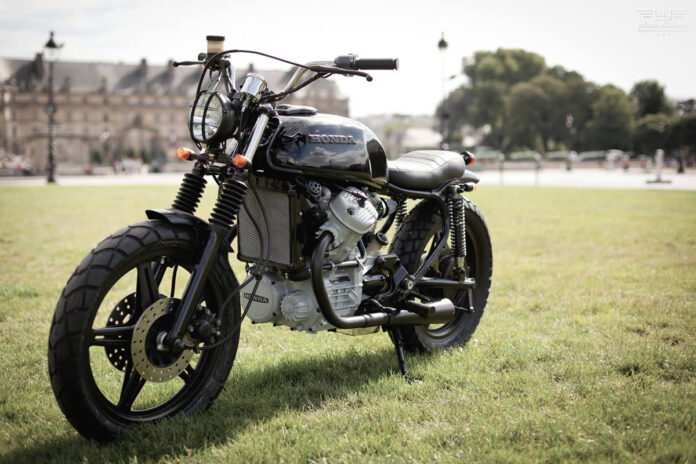 When French men build custom motorbikes there is no question about the quality of the craftsmanship! Paris based Rive Gauche Kustoms have stunned us again with their latest creation a custom Honda CX500.
Vincent Bojanowski and Julien Rouvelou are the founders and operators of Rive Gauche Customs, crafting and modifying bikes for 2 wheeled addicted custom motorbike customers.
Based on their first custom Honda CX500 build, Vincent and Julien's idea was to rebuild a lighter version of the CX500, that would be easy to ride in city streets. They decided to keep the Dark Military Style and Skateboarding touch to this build.
To begin the build the stock Honda CX500 was stripped down to the frame, which was modified, welded and epoxy painted. The stock CX fuel tank was repainted and a Rive Gauche Kustoms made seat was fitted. The fabrication work includes, modified front and rear fender and the stainless steel battery box.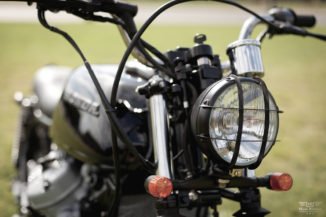 At the front this custom Honda CX500 features DOT Trail style headlight mounted on independent skateboard truck and a Tomaselli handlebar. While the rear features DOT old school style taillight mounted on independent skateboard truck base and a stainless steel battery box which was moved underneath the frame. The suspensions are original and were fitted with fork oil setup.
The engine is fitted with shorter Megaton muffler and stainless steel tube painted in black HT paint. The finished custom Honda CX500 rolls on original black painted wheels wrapped in Dunlop trail front and Pirelli Scorpion rear tires.
Vincent Bojanowski and Julien Rouvelou have manged to pull the idea of building a light and maneuverable motorbike, I can imagine the fun on blasting off this semi Motocross and flat-tracker Honda CX500 on the streets of Paris!