Verona, Italy based Mr Martini (Nicola Martini) is a man who is driven by passion and fueled by desire, his custom creations are a true form of Italian art and craftsmanship.
Mr Martini's long-time experience in the custom world has lead him to produce one of a kind motorcycles. It's a place where things are not only created but experimented, Mr Martini explores new concepts with motorbikes, accessories and creating new styles.
When you look at the Mr. Martini Ducati Flash Back you have the impression of going back through time. A very special jump in the past. The past line is combined to an advanced and exasperated technique.
The objective of this creation, born from the base of a Ducati 1098 R, was to mix a concept of super performance bike with aesthetic elements and finishes from the past. The shapes and colors lead to relive with melancholy the classic lines, but they are blended in perfect harmony with a very high notion of performance. The most particular aspect of this project is that the bike can move from a concept-style "cafe racer" to an "endurance bike" with a simple setting system of bike fairing.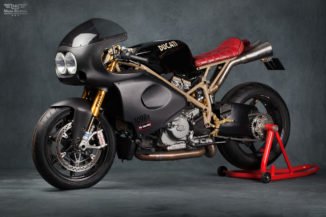 Mr. Martini, the creator of the fairing put on naked bikes, presented the Flash Back to the motorcycle show EICMA in Milan in 2011 after 300 hours of hard work. In this first version, the front light comes from a Harley Fat Boy and the lateral fairings (made of carbon) increases the rebellious nature of the special.
On the other hand, the faired version is inspired by the beautiful shapes of 60/70 years bikes and Mr. Martini builds (always in carbon) the central windscreen that integrate the two lateral fairings still on the naked version.
The rear seat has been specially designed to accommodate the craft seat (coated in Connolly leather taken from 1959 MG car) and to install the tailpipes designed by Nicola and made unique by Zard Exhaust. Also by Zard are made exhaust manifolds used for the 1098 Superbike. The work is complete with BST carbon rims 7 races. The bike frame is painted in a camel color and this choice comes from a sample of the 60 colored Fiat car.
In order to facilitate the operation of "transformation faired / naked", was settled under the tailpipes a camera (with monitor on the dashboard) to eliminate rear-view mirrors. Brilliant idea!!
This special bike was, commissioned by a Russian customer and was sent to the Soviet Union. We would like to imagine it as his spirit wont, in the Moscow city traffic , or throw in a mad rush on the streets of a desolate steppe.
Special thanks to Mr Martini for letting us feature his Ducati Flash Back, to find out more about Mr Martini's builds please visit his website.