The Factory Metal Works is a custom sanctuary for old school bobbers. It's a place where the past infuses with the present, and crafts like this 1968 BSA A65 custom becomes an icon for passion and desire.
At Moto Rivista we are big fans of the work of Lucas Joyner of The Factory Metal Works. Previously we have featured this Custom Triumph 650 for Hollywood star Ryan Reynolds and a Custom Triumph T100 for rocker Butch Walker. Both bikes maintain their old school appearance yet a discreet touch of The Factory Metal Works craftsmanship.
The feature of the day is a 1968 BSA A65 dubbed earache for obvious reasons! Also known as the bad luck beeza by Guy from Greasy Kulture magazine.
According to Lucas "This build started off for a customer over 2 years ago, the bike sits on the first full BSA frame that we at The Factory Metal Works ever made. It has 27 degrees of rake and a 5 inch rear stretch with 3 inches of axle drop".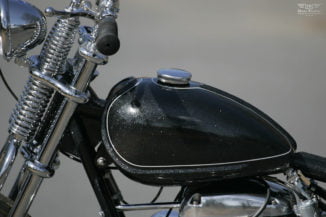 The front duplex style down tubes mirrors a stock BSA frame with the custom molding on the side of the down tubes, which also sets it apart. The 1968 BSA A65 motor features dual carb head with Amal 930 s carburetor. The Factory Metal Works also made a custom chromed oil tank and a hand made chrome rear chain guard. This BSA A65 custom also features a custom molding Wassell style P-Nut tank. At the front this BSA A65 custom has a narrow drag bar with Bates style headlight and a 21-inch black spool front wheel. While rear houses a 18 inch wheel with triumph hub, other modification is a black tuck seat with vintage chrome mount.
On this BSA A65 custom my personal favorite has to be the frame and the earache style TFMW rippled drag pipes that I believe would sound orgasmic!
According to Lucas " This bike was ready to go to chrome and paint, the hard stuff was completed well at least we thought it was. We sent the bike off to the painter, including the frame back half of the springer pegs, fender and so on. A so called friend in Arizona was scheduled to paint the bike and have it returned in 3 weeks. Well 3 months passed and he informed me the bike was done and shipped back to us, but we never saw the bike or heard from the unprofessional painter again.
The customer was growing angry and backed out of the build due to not knowing what was going to come of it and we didn't blame him. So over the weekend my crew and I decided to rebuild all the missing items so the bike would finally be completed. After a long journey this still to date is one of the nicest BSA customs you will find".
Phew, now its easy to understand why this BSA A65 custom got the name earache and bad luck beeza! It's great to see The Factory Metal Works have completed this build and given this old BSA the craftsmanship and new life it deserved. This beautiful custom craft is up for sale at The Factory Metal Works, contact Lucas for more information.