If I had to pick my favorite motorcycle chase scene from a movie, the famous Virgil Hilts motorcycle chase from The Great Escape would be on the top of my list. In the scene, Steve McQueen hijacks a Triumph Motorcycle, which was modified to look like a German wartime BMW.
Steve was chased by the Germans, which lead to the famous motorcycle jump scene. During the shooting of these scenes Steve's riding was far too fast for the German stuntmen chasing him. To solve this problem Steve doubled for his pursuers as well, with a little help from editing Steve McQueen chased himself on camera…literally!
Whenever I hear Triumph Bonneville I think of the special Triumph Bonneville T100 Steve McQueen Edition from 2011 and thus this famous movie scene.
What's got me thinking about the Triumph Bonneville you ask? It is none other than the mysterious Juilette, today's custom flavor from Maria Riding Company in Lisbon, Portugal.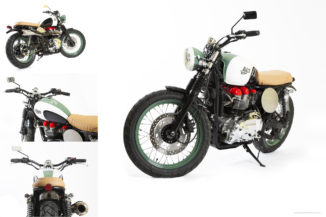 According to Maria Riding Company  " This custom was much simpler than our other projects. Our client came to us with a used 2002 Triumph Bonneville, which was not in bad shape. We wanted to give it a distinctive exclusive look.
Initially we wanted to do an army scrambler looking bike, because this was something our client loved. We took that inspiration and it evolved to something that reflected military looks but also classy and clean at the same time. We chose the green color for the rims, headlight, and tank because for us this was something different that carried some inspiration from the past, and also gave it a military touch.
The valve and carb covers were a bit oxidized, so we thought painting them with a different color from the rest, could look exotic and cool! A little bit of "racing" detail! On the overall we loved the chromatics on this project!
The owner had already baptized the bike of "Juliette" so, we thought it was cool to write some romantic words from "Romeo and Juliette" on the tank, to enrich the overall look!"
Juliette ~ There is no end, no limit.