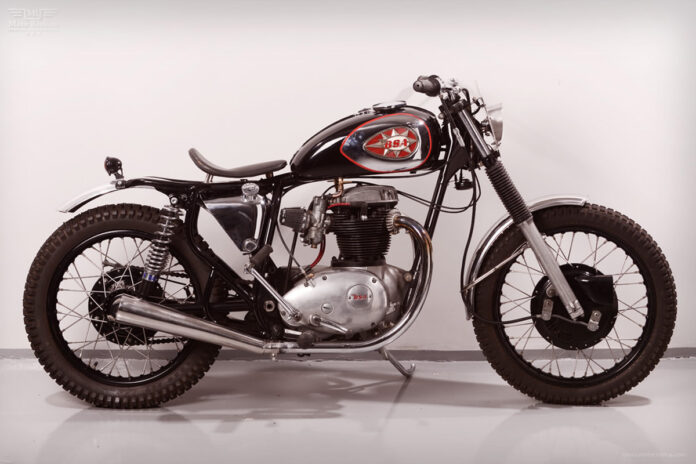 War times have taught us great lessons and one them is in desperate times people can create remarkable things. During the First World War BSA produced rifles, Lewis guns, shells, motorcycles and other vehicles for the war effort.
I am big fan of BSA motorcycles and it's not that often we see a custom BSA to feature on Moto Rivista. But today is my lucky day, La Raiz Motorcycle from Spain has blessed us with their beautifully customized BSA 650 lightning.
Lets take a turn into the memory lane "In 1951 the BSA Group acquired Triumph Motorcycles to become the largest producer of motorcycles in the world. British Motorcycle manufacturers Triumph, BSA, and Norton retained a dominant position in some markets until the rise of the Japanese manufacturers (led by Honda) in the late 1960s and early 1970s. The BSA Lightning was designed as the all-round sportbike of the 1960s".
According to La Raiz " This custom BSA 650 lightning is for customer Nortes who is a tattoo artist from Vigo Spain. His passion is traditional tattoo and bikes; he also has a Norton commando, Triumph Bonneville, Harley Xl1200 and many others."
The idea for the build was not to change the geometry of the motorbike and to preserve the original style of the BSA 650 lightning. By the looks of the build the classic lines of the bike are still there.
The sub-frame was lowered by a few centimeters and the shocks were replaced with new ones. The engine was cleaned out and overhauled and all the old electrical system was replaced with the custom made. The beautifully shaped exhaust was hand crafted by La Raiz Motorcycles.
To add some personality to this build La Raiz has mounted a race number plate with the headlight. The use of the dirt tires on the wheels is just perfect. At the rear this custom BSA 650 lightning have been simplified to adapt a single seat.
All the transformation of this BSA 650 lightning has been beautifully executed; once again La Raiz Motorcycles have proved that less is more. Is this BSA lightning is your style?