I have always thought there must be a limit for the styles of motorcycle customization and we may reach that limit one day. But I was very wrong, with the world population around 6,973,738,433, each of us unique in our own way, we will always manage to find that individuality when it comes to custom motorcycles.
The world of the custom scene is thriving more and more for unique custom flavors. Folks like Ton-up Garage from Portugal are fueling our passion and desire with their striking custom creations like this Bonneville T100 aka the Urban Pearl.
According to Pedro Oliveira " The goal for this transformation was to build a classic urban motorcycle with fine lines and an elegant shape whilst combining distinguished colors throughout the bike. Our client lives in Lisbon and he wanted this bike to use for his daily commuting to the center of Lisbon city."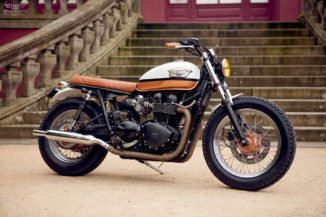 The build started out with a 2002 Triumph Bonneville T100 painted in green/silver and full of chrome parts. The stock silver engine was painted black and the new air filters were fitted. For the exhaust Ton-up Garage used off road wrapped up Triumph exhaust pipes.
The rear of the frame was chopped and a completely new section was built to include all electrics, CDI and battery which was hidden. A new rear seat was designed and upholstered in with quilted brown leather. The fuel tank of this custom Bonneville T100 was painted pearl white, black and copper; the handmade mudguards were painted pearl white.
The front suspension are stock but pulled up to lower the bike and on the back it's fitted with a pair of adjusted Harley Davidson Iron rear shocks. Another part from Harley Davidson is the black handlebar, with coke style clear brown handlebar grips. Also fitted was a mini speedo, chrome taillight, headlight with a copper ring and black indicators.
The tire dimensions were changed to 4.00-19 on the front and 5.00-16 on the rear. This means the rear rim and spokes were changed from 17" to 16".
The finished Bonneville T100 the Urban Pearl is a true form of art and passion and represents the great custom flavors of Ton-up Garage from Portugal!