In the mist of the dark night on the streets of Spain a custom Ducati Monster rises from the darkness and comes to the streetlight. Dressed in glittering black and red, this Ducati Monster was born and raised in our good friend Pepo's Radical Ducati workshop.
Ducati Motorcycles don't get any more radical than Pepo's custom crafts. Needing no introduction, the custom crafts and kits from Radical Ducati are well respected on the custom motorcycle scene worldwide.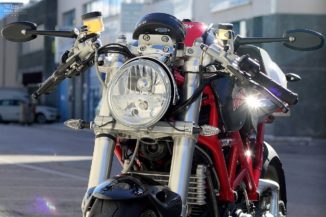 Customizing motorcycles is no easy task, not knowing where to chop and how much to grind can leave you with some pretty shocking results. I guess Pepo could feel the pain of all those stock Ducati owners and that's why he created this "plug & play" bodykit, which can be easily mounted on a Ducati Monster. The kit consists of a new fuel tank and a seat, which has been designed by Spanish designer Carlos Beltran.
Radical Ducati's Manx kit has been stated as "plug & play", you don't need to cut or change the frame of the bike. It is interchangeable with the original deposit and the Monster seats. Radical Ducati's Manx kit can be mounted on MANX Monster 620, 695, 1000 Ie, S4, S2R 80, 1000 and S4R S2R (motor 996).
Radical Ducati's Manx kit is the hope for all those out there who feel lost among the pool of stock Ducati Monsters. A perfect way to give your old Ducati Monster some Café Racer soul. Grab your Manx kit and follow through Pepo's easy instructions for the ultimate transformation of your stock Ducati Monster.
Check out the other featured bikes from Radical Ducati.