What would you do if a Triumph Thunderbird 650 dressed in a custom drag racing outfit lined up next to your bike at the lights? For me I would sit back and watch that beauty blasting off leaving me in the smoke!
This custom Triumph Thunderbird 650 aka Carolina Kid was built by The Baron's Speed Shop and The Factory Metal Works for the Born Free 3 show in California. This custom drag outfit is the personal bike of The Factory Metal Works owner Lucas Joyner.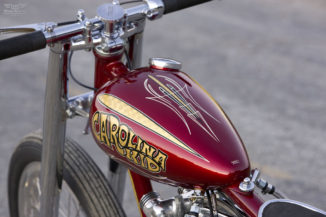 According to Lucas " We built the frame and gas tank along with the drag slash cut pipes here at "The Factory Metal Works". All these parts along with a 1951 Triumph Thunderbird 650 engine and the transmission were sent to London for completion."
The final assembly was done in South London's Croydon based shop of The Baron's Speed Shop. This shop is a haven for Vintage Motorcycle restoration, custom parts & accessories for Triumph, BSA & Harley Davidson. Baron was pressed for time and the bike almost didn't make the born free show. It arrived the Friday before the Saturday event at the airport in Los Angeles. Dick from The Baron's Speed Shop named the bike Carolina kid due to The Factory Metal Works location in Charlotte nc.
The fabrication work on this Triumph Thunderbird 650 Custom includes a Barons speed shops rear fender and chrome Barons oil bag. The alien style TFMW fuel tank was narrowed and lowered. At the front this Triumph Thunderbird 650 custom features chrome pre unit front forks and Barons pre unit fork guards. At the rear Lucas's custom drag outfit has a 19-inch shouldered rear wheel wrapped in Hurst drag slick tires. No pain no gain with Barons ball buster drag seat!
The finished Triumph Thunderbird 650 Custom embodies the retro look and feel of the drag racing era. My personal favorite on this build has to the be the beautiful frame and drag slash cut pipes and the alien style TFMW fuel tank.