Paris has just got a bit more beautiful and interesting to me since I have seen this custom Yamaha XS650. The credit for that goes to Sonic Seb who is part of the Ze Last Chance Garage a group of motorfreakers from the FATclub!
The base for this build was a stock Yamaha XS650, which has been extensively modified. The stock frame was modified, grinded and a new bracket was welded and machined for the rear brake switch.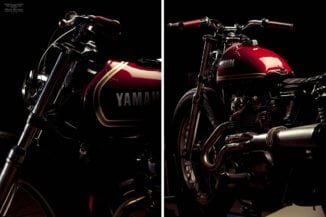 The stock engine was cleaned out and was assembled with a pair of Mikuni VM 34 carbs for performance and reliability. The engine is fitted with a handmade 2-into-1 Megaphone exhaust system by Gordon Scott in Massachusetts. To keep the engine calm Sonic Seb added an external oil cooler kit from Heiden.
At the front this custom Yamaha XS650 features shaved and dropped front fork tubes with modified old school triple trees and a Bates headlight. There are lots on little quirky parts fitted on the bike including Hippy Killer Garage grips, my personal favorite is that Yamaha DT360 enduro fuel tank painted in candy red.
Most of the custom work including fabrication and painting has been done by Sonic Seb.The fabrication work includes a hand fabricated rear fender fitted with Lucas taillight and an aluminium seat pan.
This tastefully customized Yamaha XS650 is total eye candy and has been captured beautifully by photographer Dimitri Coste for  Sideburn Magazine issue 7.