Throughout history BMW has been designing and delivering the ultimate driving machines. BMW Motorcycles have been known for their unmistakable identity and reliable performance.
Awhile back we wrote an article on Fuel Motorcycles BMW R100 Scram, the article did not cover full on details about the build but it did capture the passion and the desire to build motorcycles. Karles from Fuel Bespoke Motorcycles started his first build by reading Jeremy Churchill "BMW 2-Valve Twins" book and then he delivered a tastefully customized BMW R100 Scram. To this day this is still one of our favorite stories, add to that our favorite T'shirt of all time the T-Skull and it is safe to say we are big fans of Fuel Bespoke Motorcycles!
After months of sweat, blood and beers Karles is back on Moto Rivista with his latest creation a BMW R100 Tracker. BMW Motorcycles R100RS was proclaimed as "the most radical looking motorcycle the modern market has ever seen".
For this build Karles took a 1981 BMW R100 RS as a donor bike. "I have modified it taking a flat track motorcycle as my inspiration: light, thin and powerful motorcycles with wide handlebars and big air filters" says Karles
The entire rear of the bike was changed and a new seat/tail was designed together with VonZeti. Karles also substituted the subframe for a shorter one to fit the seat and shorten the bike, the rear indicators were also replaced. The tank was replaced with a BMW R90/6, which is much thinner then the stock one also giving the bike the look Karles wanted. The slope of combo seat/tank was also modified to give the bike a bit more aggressive lines.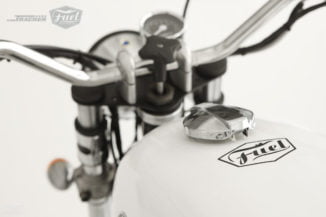 At the front the bike features Tomaselli handlebar commonly used in flat track bikes. The original headlight was replaced with a smaller one giving the bike a more proportionate and balanced look. The filters used on this BMW R100 Tracker are two K&N competition filters, while the exhaust pipes are handmade taking the original BMW exhaust and shortening them and adding the final part of a cone-shaped part. Elbows mufflers were also added with a more upright angle to get the racing look.
BMW R100 Tracker rolls on original sized Dunlop K70 vintage tires and features new suspensions, new indicators. Karles also hand fabricated a number plate holder and a number plate as well (perforated plate on the outside and fiber board on the inside). The electric part was replaced in a box inside the battery box along with a narrower gel battery.
According to Karles "Personally, it has been a great challenge to complete the bike and a way to improve and continue learning in this addictive world of customization, I hope you like!" and that we do!!
Hats off for this fantastic build Karles, I could have kept going on and on about the build of this beautiful tracker bike, but I think pictures are enough to tell the rest of this story! This bike will also be going up for sale at some point, contact Karles for more info.
Fuel Bespoke Motorcycles are also presenting 'Scram Africa' a trip for nostalgic riders. Registration is still open until the 14th of April 2012. For more information please visit Fuel Bespoke Motorcycles