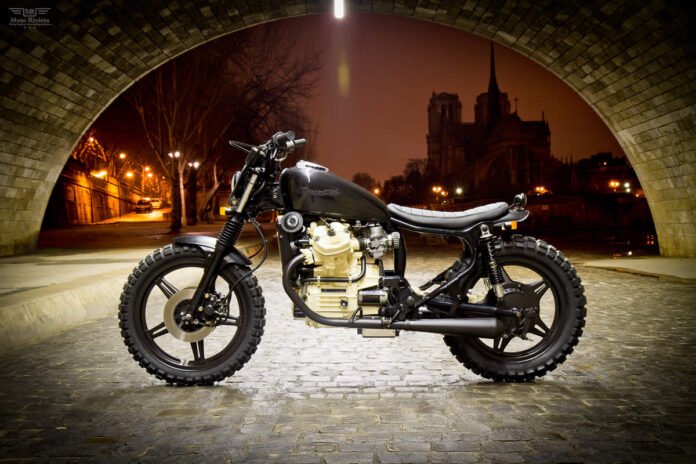 Hailing from Paris, France is 'Rive Gauche Kustoms' a workshop owned and operated by Julien Rouvelou and Vincent Hojanowaski. These guys can do it all from modifications to transformations and kick ass customization of your dream bike.
Julien and Vincent are both extreme sports lovers from mountain bike downhill, street, dirt Jumping, pitbike, motocross riding they do and love it all. For today's feature we taking a look at their 'RGK' Honda CX500 Street Tracker.
According to Julien "The idea for this Honda CX500 build was to mix Motocross and Flat-Track with a cool cruising easy to ride position in the city and a bad ass racing bike style for chilling.
The first time I saw the CX the thing I loved the most was the engine. It looked like an old military plane engine so I wanted to make it visible and the old English white paint was a good alternative and something different and new, your eyes can't miss it".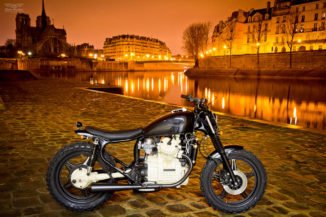 The condition of the bike to begin with was old, destroyed and incomplete. A lot of time was spent just finding the missing parts of this 1981 Honda. Once the engine was open and out of the frame "I had to rack my brain to make it pure and naked, meanwhile Vincent was trying to find a solution for the battery box and all electric devices. All of the useless parts on the bike have been removed or hidden," says Julien.
The Honda CX500C frame was chopped and welded and was coated in glossy black, the same treatment was applied to the swingarm with the side painted in old English white.
The stock Honda CX500C engine was overhauled and the air filter box was removed and painted with old English white. The engine is also fitted with fully black high temperature painted Megaton Mufflers. The stock front and rear fenders were modified and black powder coated to give it a Street tracker style. The gel battery was relocated in a hand built stainless steel box under the engine.
At the front 'RGK' Honda CX500 features XT 600 handlebars and Bates black powdercoated front headlight with stainless steel grill fixed on a hand built stainless steel number plate mount. At the rear the bike houses a Bates light with stainless steel grill and CNC mount and a handcrafted seat by the guys from Rive Gauche Kustoms.
'RGK' Honda CX500 rolls on stock CX500E 19-inch front and 18-inch rear wrapped in DOT tires. Last but not least the Glossy Black CX500C stock tank, which flows beautifully with the rest of the bike. The finished 'RGK' Honda CX500 is a beautiful creation dressed in elegant old English white and glossy black!