Imagine its 2043 and you live on the planet Cyberton. There is a war between the Autobots and Decepticons. Involved in this war you have to choose between your Café Racer or your Scrambler, not easy if you like them both!
For Left Hand Cycles the solution is a Yamaha XS650 Scrambler aka The Transformer, which simply means you can change your bike in the style you prefer. The Transformer gives you the opportunity to change quickly the tank, handlebars and cables so your bike looks completely different.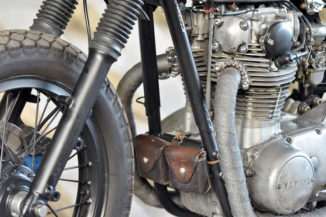 This Yamaha XS650 Scrambler is the rebirth of Acid King. This bike saw daylight a couple of months ago and the guys created a neat Cafe/Brat, with a rusty tank and industrial look.
While searching for more fun, Left Hand Cycles customized it into a scrambler! They removed the clip-ons and changed them for a wide enduro handlebar. The brake, throttle, clutch cables are replaced for longer ones and the small special tank makes it look totally different.
The exhaust and seat are Left Hand Cycles home brewed. Other modifications on this Yamaha XS650 Scrambler includes a pair of Dunlop K70 tires, and the front and rear headlights are from Bates.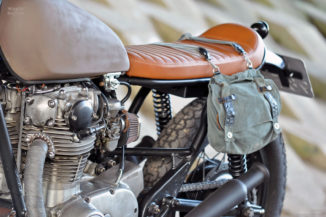 An added extra is the Acid King transformer kit, which includes rusty tank , clip-ons and brake, clutch & throttle cables. Depending on which style you prefer with the "Acid King Kit" you can simply transform it into a Cafe Racer.
I will pick this Yamaha XS650 Scrambler and team up with Autobots to kick some Decepticons asses. Drop a comment and let us know what you think of this build.