Introducing a custom Yamaha SR500 'Dirt Rod' from See See Motorcycles, Portland Oregon – a Motorcycle and Retail Shop and also presenters of  'The One Motorcycle Show'.
According to Thor Drake the idea for this bike is "a Yamaha SR500 that looked like a vintage dirt bike, flat tracker with Cafe styling". Thor built this bike for a friend, while going through the inspiration and influence Thor's friend mentioned Mr. Evil Knievel.
Since we all know that work on custom motorbike projects never stops, you always find that you could do just a little bit more and that was the case with this build. Two days before the bike had to be in a show, Thor decided to pull it completely apart and polish the frame even more and add a new layer of proper clear coating, which took 24 hours to dry. The day of the show came all to soon and Thor had a huge task of building the bike and making sure every thing worked on it. So he got together with the owner who is a photographer and together they did a time lapse. When you finish with the article watch the video which is 8 hours before the bike was completely done.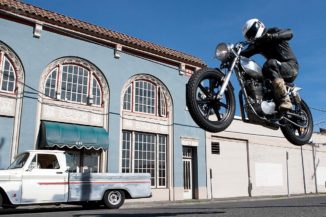 The Yamaha SR500 engine received some fine-tuning, big ol' Mikuni pumper carb and ¼ throttle which reacts with neck-breaking action. The one-piece all stainless super trap was handcrafted, fusing all the pieces and put together by Heath Exhausts. All the aluminum body parts make this bike light and sleek and the upright bars of this Yamaha SR500 are a tribute to the late Evil Knievel. This bike rolls on wide Dunlop K-180's tires and McKernin Machine supplied the braking and a full Brembo set up. The finishing touches included some NOS vibration grips and all the parts underneath were painted Nemo blue, which reflects off all the shiny parts.
Since Thor's friend mentioned Evil Knievel, this bike had to be airborne to show the all around ability of the Yamaha SR500. According to Thor "I told my photographer buddy Ray Gordon I wanted to take a photo of the bike like I was from the future. I wanted to be suspended in air, low and flat wearing my 'PowerRanger' racing suit". And that's exactly what he did, check out the amazing shot captured by photographer Ray Gordon
Wow 8 hours to build this beautiful Yamaha SR500, which is not just an average bike. With this bike you could go nuts, cruise around the streets or go airborne; amazing! Check out the video now!.
Drop a comment and let us know what you think about this custom Yamaha SR500 Dirt Rod.