Located in the city of Nybro, Sweden Lars Gustavsson has a workshop called Recycle Motorcycle. Inside an old power station and sharing room with an urban farm, the workshop is great in the summer, perhaps a little too cold in winter but with the perfect atmosphere for wrench turning.
The bike is a 1984 Yamaha SR400 called 'Ratatoskr'. According to Recycle Motorcycle the explanation behind the name is "Ratatoskr / messenger, is named after a creature in the Nordic mythology. A squirrel who runs up and down the world tree Yggdrasil to carry messages between the un named eagle in the top, and the angry dragon Nidhögg under the root. Ratatoskr has a never ending task to travel the world tree from root to top and back… he needs a motor"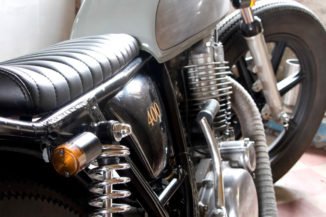 Lars spent the whole winter in his workshop chopping off the fittings and battery from the centre frame of this Yamaha SR400. The back of the frame was rebuilt and the front of the bike was dropped by 2-inches.
The bike also features a KN air filter, Raask 2″ exhaust which was painted with heat resistant paint. The headlights are from Bates and the turn signals are from Daytona. 'Ratatoskr' rolls on mag wheels wrapped with Firestone tires, Lars also painted the Firestone logos on the front and the rear tires with gold. Certain Triumph parts have enhanced the beauty of 'Ratatoskr' including Triumph foot pegs, Triumph grips and throttle, last but not least Triumph rear fender.
By the sounds of things Recycle Motorcycle are just getting started and there is still ongoing work on this bike. We don't have too much information but we liked it so wanted to do a feature, and of course the pictures are pretty cool (some are cosmetic progress shots). Don't forget to open the gallery to see this bike up close.
If you think this bike is something special please LIKE it below, or SEND to your friends.