What started out as computer 3-D design and then turned in to a BMW R905 Bobber Cadbike wasn't an easy build.
Mark 'Duckman' van der Kwaak was born in Australia, since 1972 he has called the Netherlands home. Mark has been designing and building for himself since 1985 and in 2003 started his company DBBP-Design. Mark uses CAD software to design bikes and parts, something he gained experience from in 1994 whilst working in a job where he designed pump parts using 3D CAD software. He took the skills and after hours applied that to his love for bikes.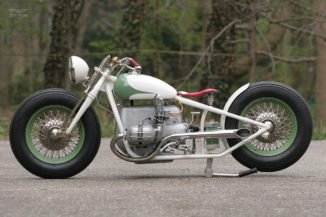 From what we know this wrecked BMW R905 was purchased around 1987, the bike was smashed into a curb and landed right in to a canal. According to Mark "there was still canal water in the engine and gearbox frame and the forks were too smashed up to be saved". Mark bought a frame of a R51 with a raked neck and used all kinds of parts to build a running ratbike. Later he decided to rebuild it again and that is where the story of the BMW R905 Bobber Cadbike #33 comes together.
To begin with Mark used his skills and designed the entire bike in CAD, all the measurement, rake, handling every single detail of the bike build was put together with CAD. The build started with Mark and Aad Heemskerk stripping down all parts. According to Mark "The original plan was just to change the neck of the frame, but when we found the frame was not straight we made a complete new frame using only 4 tapered pieces from the stock frame. It's now a hardtail and the motor mount position were raised so the motor does not stick out so far on the bottom and it makes the whole profile look lower".
The engine of the BMW R905 Bobber is almost original. On the motor Mark and Aad made a whole new top cover from front to back, to hide the electric component. Only two broken cooling ribs were replaced, the motor and gearbox received dull aluminum finish and the classic 'Duck Logo' was placed on the chest of the engine. This BMW R905 Bobber also contains a linkage system so there are no throttle cables to the carbs. One cable enters the engine on the top and the carbs both are operated by a stainless steel linkage system. What sit on the top of the two big cylinder head is two carburetors with Stromberg air-filters. The gearbox has been grit-blasted, glass-beaded and clear-coated, and after a lot of cleaning it was reassembled. The exhaust system was built out of stainless steel by Marks right hand man Aad.
Mark wanted a 70's Super-glide tank to be the energy source of this beauty; he got one from his buddy Paul Funk. From there on the tank went though some serious customization.
According to Mark "The wheels are also interesting, I bought a set of black 16-inch rims and designed the wheelhubs myself, long spokes on one side and short spokes on the other.  The spokes (80 per wheel) are handmade in stainless steel. The wheels are wrapped in Firestone tires, the front brake is completely built from scratch out of a solid lump of aluminum, and only the brake shoes were used from stock BMW R90S.
A classic H-D Springer front adds the classic look to this bobber. Joe McGlynn of Crime Scene Choppers donated one his beautiful Speedster gas caps for this build. BMW Cadbike #33 Bobber also features a few after market parts, which includes, Crime Scene Choppers Rear light and Crime Scene Choppers/Tiger Leathers Seat.
Three years of hard work Mark and Aad were proud to present this beauty at 2008 AMD European Championships.
Interested in a detailed account of this build? Mark has documented the entire build on his site, its 83 pages long – Impressive!